Your search for "Berlin Duty" returned 869 results

Preview Unavailable
HD-224 Beta SP (all); DN-LB-590 Beta S...
1966 UNIVERSAL NEWSREEL 7
More info...
52344 This Is US Eucom
52344 U.S. ARMY EUROPEAN COMMAND EUCOM 1967 NATO COLD WAR FILM
More info...
Views of Americans in West Berlin; then scene...
Life of Americans in enclave in West Berlin. American children at United States Army community school in West Berlin. American music being played on radio as youth dance to rock and roll tunes. Ame...
More info...
1950s
b&w - animation cartoon - don't forget to vote - Jimmy Durante - See you at the polls - Ethel Merman and Donald O'connor sing Irving Berlin song I wonder Why You're Just In Love - William Bendix as...
More info...
Preview Unavailable
History of Nazi Germany Part 1, 2, 3
01:59:42:25>>>B/W 1937 ZOOM IN from book on table, entitled The Rise and Fall of the Third Reich: A History of Nazi Germany by William L. Shirer. Germany, 1937. VS Nazi youth blowing long horns, ...
More info...
Preview Unavailable
LOSS OF DUTY PAY
ORIG NEG 105 SIL FTG FOR STORY ON LOSS OF DUTY PAY IN WEST BERLIN, GERMANY. VS OF SIGN READING: US HEADQUARTERS, BERLIN. VS HONOR GUARD AT GATE. VS SIGN READING: SHOPPING CENTER. VS OF DIFFERE...
More info...
BERLIN BRIGADE BROLL
00:41:20:14 VS soldiers march behind soldier w red flag/ VS soldiers walk & talk/ SOT Private Angela Kemp, soldier like being in Berlin; first duty station; best I'll ever have; will miss it; ...
More info...
East German Soldier's Decision to Defect
At a cemetery in East Berlin, a young soldier on guard duty thinks about defecting to West Berlin. An elderly woman speaks to him through the gate. He leans against the cemetery entrance wall and ...
More info...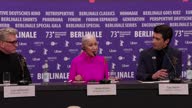 INTERVIEW - "Golda" Press Conference - 73rd B...
BERLIN, GERMANY - FEBRUARY 20: (INTERVIEW) Actress Dame Helen Mirren speaks on how the loss of so many young people during the war affected Israel profoundly and Golda Meir very much, how she too...
More info...

Preview Unavailable
MILITARY
"SOLDIER IN BERLIN" A VIEW OF BERLIN THROUGH THE EYES OF A CORPORAL ON DUTY THERE
More info...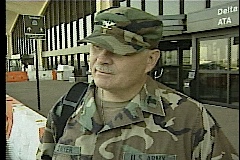 NATIONAL GUARD PROVIDES AIRPORT SECURITY (10/...
NATIONAL GUARD TROOPS FROM NEW JERSEY MOVE INTO NEWARK AIRPORT TO TAKE UP SECURITY DUTIES.
More info...
BERLIN HOLDS BRITISH WEEK
Title reads: "BERLIN HOLDS BRITISH WEEK". Berlin, Germany. L/S British flags (Union Jacks) flying in main street in Berlin. M/S Coat of Arms and signs; "Britische Wochen Berlin 1962". L/...
More info...
---