Your search for "job interview african american" returned 1440 results
SOCIOLOGIST INTERVIEWS WOMAN - HD
A sociologist conducts a field interview. Note Mastered currently in DVC PRO HD 16 x 9 from film. Available in all HD and SD 43 formats.
More info...
Preview Unavailable
PEACE JOBS AND FREEDOM MARCH
20TH ANNIVERSARY MARCH ON WASHINGTON. INTERVIEWS WITH PARTICIPANTS OF THIS MARCH ABOUT THE ORIGINAL MARCH IN 1963. CROWD SHOTS. LS OF MEMORIAL WITH CROWDS IN FOREGROUND. SHOT OF WASHINGTON MONUME...
More info...
News Clip: Special session
Video footage from the KXAS-TV/NBC station in Fort Worth, Texas, to accompany a news story.
More info...
1940s
G.I. Bill of Rights 1944 - GI - soldiers return from war and readjust to society - 1919 WWI Victory Parade - tugboats guide ship into harbor, soldiers return from france, Welcome home doughboys,...
More info...
The 90's, episode 306: RACE AND RACISM - RED...
01:09 Cold Open from This Week in Joe's Basement, a cable access show in Chicago. A man on the street is asked what he thinks of black people. I got a difference between black people and niggers. ...
More info...
U.S. Navy Sailors in Virginia on swift boat a...
A recruitment film of the U.S. Navy about interest of high school students in navy in the United States. Sailors aboard a swift boat. POV wake of swift boat. African-American sailor on swift boat t...
More info...
Paramount
William Hodson, Welfare Commissioner of New York, speaks to unemployed men who moved to find work
More info...

Preview Unavailable
FSN-13 Beta SP
News Stories
More info...

Preview Unavailable
CONTEMPORARY STOCK FOOTAGE
BCSP/COMBO, AFRICAN AMERICAN HOLLYWOOD, KLIEG, MOVIE PREMIERE, HALLE BERRY, MORRIS CHESTNUT, CINEPLEX, MARTIN LAWRENCE, ICE CUBE ; Director talking head arrival at premiere, African Americ...
More info...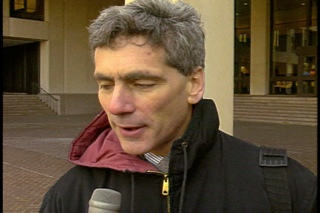 FEDERAL WORKERS RETURN AFTER SNOWSTORM (1996)
Federal workers are back on the job today after Washington' record snowstorm and the end of the government shutdown. (Federal workers were back for one day last week, but bad weather forced anoth...
More info...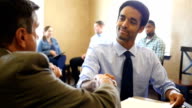 Human resources manager interviews businessman
Young mixed race businessman or human resources manager confidently shakes hands with a mature male Caucasian potential employee during a job fair. The men smile while talking with one another. Pe...
More info...
Preview Unavailable
BLACK FRIDAY & WORKING TEENS / ROOSEVELT FIEL...
cover footage of a sign that advertises "cool jobs." Exterior shots of record town and fao schwartz toy store. Interview with young white teenage sales clerk. Young white teenage sales clerk helps...
More info...
---