Your search for "catholic priest with children" returned 2148 results
Catholic African Americans in Church Procession
Master 138 Tape 1 Note Most of these shots are very overexposed and of poor quality Overexposed African American altar boys leaving church one carries and American flag African American pri...
More info...
1960s Home Movies First Communion
color - home movies - super 8 - 8mm - 1960s east coast - family - families - nostalgia - boys & girls leave church for first communion - pose with priest - family of four pose for outside home in y...
More info...
A catholic priest kneels in prayer at a churc...
A church and newly constructed houses in Hiroshima, Japan. A catholic priest walks from underneath a choir loft, at his side are four Japanese children. The priest kneels in prayer. A church tow...
More info...
NORTH LONDON PROCESSION (aka CATHOLIC PROCESS...
Full title reads: "NORTH LONDON PROCESSION". London. Pan down a church in North London. Religious procession, with priests and children in white robes in front, leaving the church and movin...
More info...
Preview Unavailable
US Catholic Scandal - Cardinal says church be...
TAPE: EF02/0252 IN_TIME: 04:23:28 / 07:34:52 DURATION: 1:21 SOURCES: ABC RESTRICTIONS: DATELINE: S.California, 26 March 2002 SHOTLIST: 1. SOUNDBITE: (English) Cardinal Roger Mahony, Archbisho...
More info...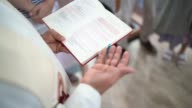 Baptism celebration at church
Baptism celebration at church
More info...
ARCHBISHOP OF NEW YORK HAYES
The nation mourns the passing of His Eminence Patrick Cardinal Hayes, the Archbishop of New York and Cardinal Priest of the Roman Catholic Church. He is remembered with an excerpt from a speech he...
More info...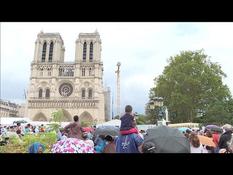 Open-air ceremony near Notre-Dame on the eve ...
Others
More info...
Preview Unavailable
Faces Of Chinese Children
Smiling Chinese children. CUs on the faces of approx. a dozen Chinese girls and boys, most set against blue sky. In one quick shot, a crowd of children in a courtyard cross themselves in unison i...
More info...
LIVE FROM
/n00:00:00:00 /nLIVE FROM ROME: Crisis in the Priesthood; with Connie Chung; Interview (taped earlier) with Bishop Wilton Gregory, Pres, US Conference of Bishops; GUESTS: Ellen Brem, priest ...
More info...
54424 The World We Want To Live In
54424 ANTI-HATE SPEECH 1945 NATIONAL CONFERENCE OF CHRISTIANS AND JEWS THE WORLD WE WANT TO LIVE IN
More info...

Preview Unavailable
DWZ-22 Beta SP (PAL)
ENDSTATION MACAO
More info...
---