Your search for "fromm brothers" returned 3 results
The silver fox farm of Fromm Bros Nieman Comp...
Elevated and ground level views of a silver fox fur farm owned by Fromm Bros Nieman and Co (precursor to Fromm Family Pet Food company) in Thiensville, Wisconsin. Silver foxes seen near their pens...
More info...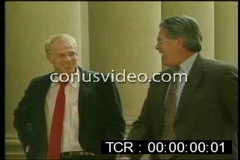 Smokescreen - Deputy
AN OFF-DUTY DEPUTY TALKS ABOUT HOW HE FIRST SPOTTED TWO BROTHERS BUYING HUGE AMOUNTS OF CIGARETTES ... IT LED TO OPERATION SMOKESCREEN AND THE CONVICTION OF THE TWO MEN TIED TO THE TERRORIST ...
More info...
Preview Unavailable
PRESIDENT REAGAN SHOOTING
OFF AIR FTG / SPECIAL REPORT ON THE ASSASSINATION ATTEMPT ON PRESIDENT RONALD REAGAN. SU: TED KOPPEL AND FRANK REYNOLDS. VS OF POLICE VEHICLES TRANSPORTING SUSPECT JOHN HINCKLEY, JR., TO DC POLIC...
More info...
---