Your search for "Obama chicago family" returned 2207 results
US IL McDonald (NR)
McDonald Family Calls for Change in Leadership
More info...

Preview Unavailable
CONTEMPORARY STOCK FOOTAGE
DVD NEWSFEED: 5/27 & 5/23/2008, ROAD CLOSED SIGNS, CAMPAIGN 2008, 9/11 PENTAGON MEMORIAL PIECES DELIVERED TO SITE ;DX-INT NYSE CLOSE BELL, STOCK FLOOR; NX-EXT BRIDGE CLOSED, MEN CARRY ROAD CLO...
More info...
OBAMA FAMILY ARRIVES IN CHICAGO - HD
Scene of President Obama with his wife Michelle and daughters Sasha and Malia arriving at the airport in Chicago via Air Force One on the day of the election. Mastered in Apple Pro Res 422 HQ, ava...
More info...
Newyorkers gather in Times Square to demand j...
Others
More info...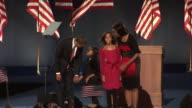 November 4, 2008 WS Barack Obama waving to c...
More info...
IL:OBAMA FAMILY WALK
More info...
Obama family boards campaign plane
B-roll Barack, Michelle, Sasha, and Malia Obama boarding campaign plane to Des Moines Chicago, IL 5/20/2008
More info...
OBAMA AND FAMILY IN CHICAGO
BO, SASHA, MALIA, FIRST LADY MICHELLE OBAMA, PRESIDENT BARACK OBAMA, MOTHER-IN-LAW MARIAN ROBINSON, ET AL WALKING DOWN A SIDEWALK IN CHICAGO, ILLINOIS.
More info...
MICHELLE OBAMA IN CHICAGO
FTG OF FIRST LADY MICHELLE OBAMA IN ILLINOIS WITH GOVERNOR PAT QUINN AT THE ILLINOIS NATIONAL GUARD ARMORY TO SIGN THE "MILITARY FAMILY LICENSING ACT" INTO LAW
More info...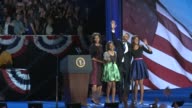 Barack Obama wins 2nd term
Part 1 of five of Barack Obama's election night speech Barack Obama wins 2nd term at McCormick Place Convention Center on November 07, 2012 in Chicago, Illinois (Footage by Getty Images)
More info...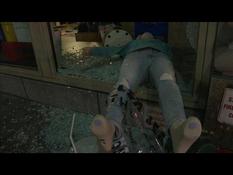 Looting at SoHo after another day of protests...
Others
More info...
OBAMA & FAMILY WAVE TO ELECTION NIGHT CROWD
In Chicago, Barack Obama and his family wave to a mass gathering of supporters on election night.
More info...
---