Your search for "Black Panthers" returned 2120 results
Bobby Seale, co-founder of the Black Panther...
Black Panther Party leader, Bobby Seale, speaks about the impact of the Black Panthers on the situation in Oakland California, where he asserts that African American people are oppressed by the ...
More info...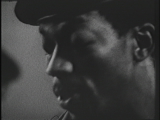 SOCIAL ISSUES
Black Panthers inside club house or Chicago Panther headquarters Interviews with several Black Panthers
More info...

Preview Unavailable
PYN-1 1 inch
OFF THE PIG
More info...
African Black Panther Plays With Stuffed Animal
play, rest, Black, Land, Topside, African Black Leopard, African Black Panther, Big Cat, Close Up, Lock Shot, Animal, Mammal, Single
More info...
Black Panther party members, street scenes, ...
Clip from a compilation of scenes documenting the Black Panther Party in 1969. Featuring Eldridge Cleaver. Cop drives past a group of African-Americans on the street. Black Panther party members in...
More info...
Kosovo: Fragile Peace
October 10, 2001. Various shots of large LDK political rally, shots of speech by candidate Ibrahim Rugova, shots of crowd, many security guards (Black Panthers), UN military, shots of Albania...
More info...
63694 A Tiger Hunt In Bengal
63694 A TIGER HUNT IN BENGAL 1940s INDIA HUNTING FILM PANTHER & BENGAL TIGER HUNT
More info...
US LA Black Panther Fan Events (CR)
African fashion on display at 'Black Panther' shows
More info...
1960's Bobby Seale, Black Panthers
B/W 1960's Bobby Seale, Black Panthers. CU Demonstrator speaker calls to free Panther, Bobby Seale...and rails on
More info...
Pathe
Notre Dame Fighting Irish defeat University of Pittsburgh Panthers in 1931 college football game in South Bend, IN
More info...
Preview Unavailable
PANTHER TRIAL: NEWTON & PANTHERS GIVE BLACK P...
ORIG. COLOR 250' SOF / MAG. CUT STORY: HUEY NEWTON OF PANTHERS WALKS TO COURT HOUSE GIVING PANTHER SALUTE. BRANNIGAN SU. VS PANTHER SYMPATHIZERS OUTSIDE COURTHOUSE. MORE OF NEWTON ARRIVAL. CI: GEOG...
More info...
FUNERAL OF GEORGE JACKSON
Funeral of George Jackson. Oakland, California, United States of America. CU wreath being carried along, pan to crowds outside house. CU Black Panther banner. CU Black Panther leaflet. Pan...
More info...
---