Your search for "1990s college students" returned 1101 results
Preview Unavailable
2000 PRESIDENTIAL RACE: BILL BRADLEY CLIPREEL
DUB OF NYBA16723C - BILL BRADLEY CLIPREEL: COVERAGE OF 2000 PRESIDENTIAL CAMPAIGN / CLIPREEL #1 OF DEMOCRATIC PRESIDENTIAL CANDIDATE BILL BRADLEY / 10:00:00 KNXV FILE FTG OF BRADLEY AS NEW YORK K...
More info...
OBAMA/EDUCATION
00:00:01:15 If we want to see middle class incomes rising like they did in the 1990's, we can't afford a future where so many Americans are priced out of college; where only 20 percent of our stud...
More info...
The 90's, episode 209: KIDS, SCHOOLS, AND ...
01:53 Plamondon School by Kathie Robertson. On Chicago's West Side, Principal Guadalupe Hamersma talks about the troubles facing low income urban schools. It's a mistake excusing ignorance because...
More info...
Canadian Youth Business Seminar
In Scarborough, young entrepreneurs attend the Canadian Youth Business Foundation seminar at Centennial College to find mentorship, further education opportunities, and financial backing.
More info...
REAR VIEW tilt up student typing on laptop co...
More info...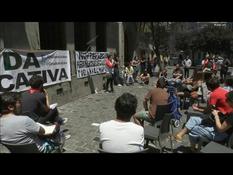 Chile: education, expensive and elitist, at...
AFP video
More info...
Preview Unavailable
Yugoslavian University
At a Yugoslavian university, young men read Marx and Hegel, study, discuss. Nice shots of Slavic faces. A group of students stands outside as a bicycle rides in front of the camera. Narration t...
More info...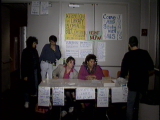 1980s NEWS
04 MAY 1990 HUNTER COLLEGE DEMONSTRATION -SIGNS IN COLLEGE DORM, STUDENTS SIT AT TABLE -INTERVIEW WITH IAN MCGOWAN, CUNY STUDENT, DISCUSSES BUDGET CUTS IN CUNY COLLEGES, AND CAROL BERNARD OF ...
More info...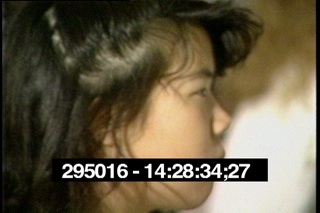 SCIENCE STUDENTS - 1990
B-ROLL OF COLLEGE STUDENTS SITTING IN A SCIENCE LECTURE
More info...

Preview Unavailable
ACL-3011 Digibeta; Beta SP
WOMEN'S SUFFRAGE AND LIBERATION - PART ONE
More info...
1990s Private Prep School or College
three black limousines approach on ritzy private prep school campus - cut then camera follows as they drive toward buildings - could be college - East Coast - students walk on campus
More info...

REAR VIEW 2 male students with backpacks walk...
More info...
---