Your search for "archerfish" returned 10 results
Preview Unavailable
Banded Archerfish Swim Just Beneath The Surfa...
tropical, low angle, wide shot, coral reefs, tropical pacific, day, spring, australasia, coral reef, underwater, pisang island, mangroves, blue water mangroves, indo pacific corals, fish, toxotes j...
More info...
NEWS IN FLASHES (FLORIDA, CHAMONIX, LONDON,...
Title reads: "News in Flashes". U.S. navy tests submarine escape apparatus. Key West, Florida, USA (United States of America). Various shots of submarine U.S.S. Archerfish submerging. Underw...
More info...
SUBMARINE ESCAPE-GEAR TESTING
The submarine Archer-fish rests on the ocean floor off the Florida keys. Two Navy volunteer test sub escape-gear and are buoyed straight to the surface in contrast to usual methods of surfacing wh...
More info...
The U.S.S submarine, Archerfish, cruises th...
The U.S.S submarine, Archerfish, cruises through a harbor as sailors stand on the deck; an American flag waves in the wind as sailors and Naval officers dock the submarine.
More info...

1950s Archerfish spotting prey on top of stal...
More info...

Close up of archerfish squirting stream of wa...
More info...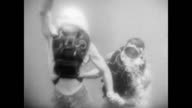 Navy Tests Submarine Escape Equipment
/ on submarine USS Archerfish, US Navy volunteers, Commander George Bond and Chief Engineman Cyril Tuckfield get ready to test submarine escape gear / both men climb ladder in their swimwear / we...
More info...
---