Your search for "assassination middle east" returned 1684 results
RIOTERS PROTEST LUMUMBA'S DEATH - CAIRO
In Cairo, rioters protest the assassination of the Congo's first elected prime minister, Patrice Lumumba.
More info...
Preview Unavailable
CONTROVERSY OVER ASSASSINATIONS IN MIDDLE EAST
GILLIAN FINDLAY CS VO ON CONTROVERSY IN MIDDLE EAST AFTER AN EXPLOSION KILLED SIX MEMBERS OF PALESTINIAN PRESIDENT YASIR ARAFAT'S POLITICAL ORGANIZATION
More info...

Preview Unavailable
CRIME
RELIGIOUS TERRORISM AND POLITICAL VIOLENCE THROUGHOUT THE WORLD. THREE DIFFERENT GROUPS. FROM IRAN, EGYPT AND INDIA. TERRORISM WORLD IN SHADOWS. AIRPORT SECURITY. IRAN HOSTAGE CRISIS. JIMMY CARTE...
More info...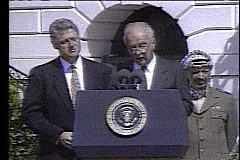 WHAT NOW FOR MIDDLE EAST PEACE? (11/06/1995)
PRESIDENT CLINTON LED AN EXTRAORDINARY DELEGATION OF U.S. LEADERS TO ISRAEL SUNDAY TO MOURN THE DEATH OF PRIME MINISTER YITZHAK RABIN. CLINTON WAS ACCOMPANIED ABOARD AIR FORCE ONE BY FORMER PRESID...
More info...

Preview Unavailable
GS-15 DAT
TODAY IN HISTORY - NOVEMBER
More info...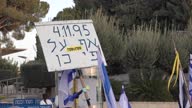 Protest Against Netanyahu's Incoming Governme...
JERUSALEM, ISRAEL - DECEMBER 12: A protestor holds up a sign which shows the date late Israeli prime minister Yitzhak Rabin was assassinated, during a demonstration held by left-wing activists ag...
More info...
( MIDDLE EAST CRISIS )
Unused / unissued material - Title reads: "Middle East Powderkeg - A chronology in depth of events which reflect US determination to help preserve the sovereignty and integrity of peace loving n...
More info...
AL-ASSAD / SYRIAN TRAIT
More info...
Preview Unavailable
Interview with Jabril Mamoud al Rajoub
Interview conducted with Jabril Rajoub, 00:00:00>>>, Q: (Introduce yourself), JABRIL RAJOUB: Jabril Mamoud(?) al Rajoub., Q: (And your title), RAJOUB: I am member of the Revolutionary Council o...
More info...
63814b Yesterdays Newsreel State Of Israel
63814b YESTERDAY'S NEWSREEL 1948 FOUNDING OF MODERN ISRAEL JOSEPHUS DANIELS BLACK CAT STUNTMEN
More info...
Preview Unavailable
Faisal Assassinated, Egypt Gains
Following the funeral cortege of Saudi Arabian King Faisal, Arab leaders, including Egyptian President Anwar Sadat and Jordan's King Hussein, pay their respects to Faisal's brother. As oil pump...
More info...
Europe Middle East Protest
Pro Palestinian and Israelis demos in Brussels and Berlin
More info...
---