Your search for "burial for fallen soldier" returned 235 results

Preview Unavailable
DN-LB-546 Beta SP
Universal International News
More info...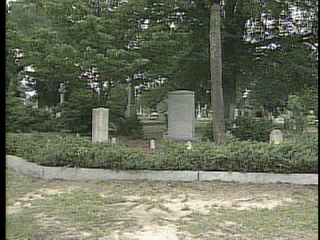 Hunley - Newser
A NEWS CONFERENCE TODAY TO ANNOUNCE RESULTS, PRESENT ARTIFACTS AND ANSWER QUESTIONS ABOUT THE RECENT ARCHAEOLOGICAL DIG FOR THE H.L. HUNLEY
More info...
Tsar Nicholas II with a priest and other offi...
Russian officials along with Tsar Nicholas II arrive at a field cemetery on the Eastern front during World War I. A priest accompanies them as they walk. The officers and soldiers walk into a fence...
More info...
SOUTH AFRICA'S SUPERB MEMORIAL (& CUTS)
Full title reads: "Unveiling of South African National Memorial, Delville Wood." Delville Wood, Longueval, Somme, France. Intertitle: "To the immortal Dead from South Africa ... who at th...
More info...
Preview Unavailable
ISRAEL: AKKO: BURIAL OF NAPOLEON BONAPARTE SO...
TAPE_NUMBER: EF99/1229 IN_TIME: 13:07:22 // 20:55:31 LENGTH: 01:58 SOURCES: IBA RESTRICTIONS: No Access Israel/Internet FEED: VARIOUS (THE ABOVE TIME-CODE IS TIME-OF-DAY) SCRIPT: English/Nat ...
More info...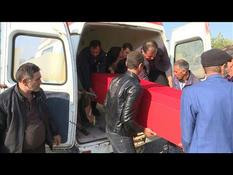 Azerbaijanis hasten to bury their dead as fig...
Others
More info...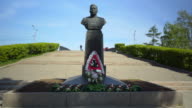 Memorial Statue of Soldier With Flowers - Irk...
Memorial statue of a soldier's bust, wearing many medals and colorful flowers at the foot of the statue
More info...
26014 All American
26014 1943 U.S. ARMY AIR FORCE ALEUTIANS, NORTH AFRICA, SOUTH PACIFIC, ITALY, EUROPEAN THEATER
More info...

Preview Unavailable
DN-LB-529 Beta SP
Universal Newsreels
More info...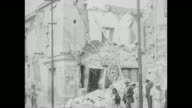 Scenes of earthquake destruction including ch...
Title card: "Terrific Quake Destroys Mexican city of 60, 000-Oaxaca-Pathe News flies to danger zone to show ruins" / pan looking down on damaged buildings / people walking by wrecked buildings / si...
More info...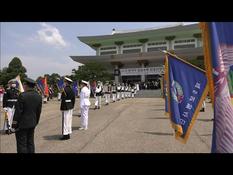 South Korean Army Buries Four Korean War Dead
Others
More info...
Preview Unavailable
(V) Lithuania Graves - VOICER Soldiers from N...
TAPE: EF03/0501 IN_TIME: 22:16:18 DURATION: 1:29 SOURCES: APTN RESTRICTIONS: DATELINE: Vilnius - June 1, 2003 VOICED BY VERA FRANKL SHOTLIST 0000 Soldiers marching and soldiers with wreath 0007 M...
More info...
---