Your search for "black caddies" returned 138 results
31174 United Airlines
31174 NORTH AMERICAN ROUTES OF UNITED AIRLINES 1950s PROMOTIONAL FILM DC-6 & CONVAIR 340
More info...

Preview Unavailable
SILENT COMEDY SHORTS
GOLF GAME WITH BLACK CADDY
More info...
President Warren G.Harding
BW 1920s CU President Warren G.Harding. Harding swings golf club - Harding's caddy is young black man. VS dormant factories symbolizing labor unrest, strikes - armed guards patrol plants.
More info...

Preview Unavailable
DN-LB-504 Beta SP; NET-643 DigiBeta (PT...
While Close by, Rosie, the World's only golf-playing elephant...
More info...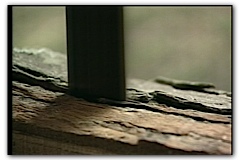 U.S. OPEN GOLF PENS (6/11/2002)
TREES CUT DOWN ON THE COURSE OF THIS YEAR'S U-S OPEN ARE TURNED INTO PENS FOR GOLF FANS.
More info...
In South Africa
FR3 / France 3
More info...
Preview Unavailable
San Francisco Golf Course
Wide panning shot of a San Francisco golf course, followed by a golfer hitting his ball out of a sand trap. DOC - 1930's - B/W
More info...
Assimilation of Western culture and fashions ...
Film opens showing map of Asia and black clouds coming from all around the world to enclose Japan. A street scene with commercial displays of lights and modern architecture. Hollywood movie adverti...
More info...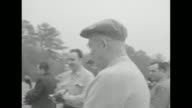 President Eisenhower back to playing golf aga...
Title card: ñPeople in the Newsî superimposed over people on escalator / title card: ñGolfer Ike back in Competitionî superimposed over Eisenhower pulling golf club out of bag / President Dwight D ...
More info...
FLORIDA
Title reads: "Florida". Miami, United States of America (USA). American golf championship. M/S of golfer, Johnny Ravolta, putting ball into hole. A crowd watches. L/S of crowd on golf c...
More info...
Preview Unavailable
AFRICAN SCENICS / BEAUTY SHOTS / GOLF COUNTRY...
COVER FTG OF A COUNTRY CLUB IN HARARE, ZIMBABWE FOR A CS ON THE TENTH ANNIVERSARY OF THE ESTABLISHMENT OF BLACK MAJORITY RULE. 00:00:01 GOOD FTG OF WHITE GOLFERS, SHADED BY BLACK CADDIES, PLAYI...
More info...
Carling World Golf
LS of George Knudson playing golf, hitting from rough towards green, pulling shot into deep rough near green. Shot of Knudson finding his ball and running towards rough from where he hits ball on...
More info...
---