Your search for "fleet cars honda hybrid" returned 3 results
Preview Unavailable
US Autoshow - World''s major auto manufacture...
NAME: US AUTOSHOW 050105N TAPE: EF05/0020 IN_TIME: 10:08:37:10 DURATION: 00:02:38:00 SOURCES: APTN DATELINE: Los Angeles, 5 Jan 2005 RESTRICTIONS: SHOTLIST 1. Wide shot of car show exhibition are...
More info...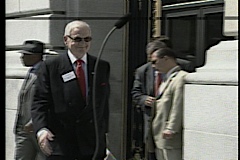 Iococca - Earth - Day
AS PART OF EARTH DAY, AUTOMOBILE ICON LEE IACOCCA ANNOUNCED TODAY THAT HE EXPECTS SAN FRANCISCO TO BE THE CITY THAT LEADS THE NATION IN SWITCHING FROM OIL TO ALTERNATIVE FUEL TRANSPORTATION.
More info...
Preview Unavailable
HIGHWAY SAFETY HEARING 1500-1600
highway safety House Energy and Commerce Subcommittee Hearing on Highway Safety with David Strickland, Administrator of the National Highway Traffic Safety Administration, Joan Claybrook, Ami Ga...
More info...
---