Your search for "imbiss" returned 5 results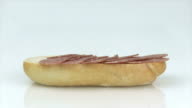 Sub Sandwich Buildup Stop-Motion-Animation
Stop-Motion-Animation of a Salami and Cheese Submarine Sandwich on white ground.
More info...
BRITISH SCHOOLCHILDREN VISIT THE IRON CURTAIN
Unused / unissued footage - dates and locations may be unclear / unknown. British schoolchildren (teenage boys) visit the Iron Curtain - Helmstedt, Germany. L/S of train pulling into Helmste...
More info...
Eating time
People taking some food in a typical Thai imbiss
More info...
---