Your search for "doors morrison" returned 304 results
Jim Morrison tomb in Pere Lachaise cemetery ...
Tomb of Doors singer Jim Morrison in Pere Lachaise cemetery Paris.
More info...
1943
Part 4 of 4 - Bowery Boys feature - 1943 b&w directed by William Beaudine - Cast Leo Gorcey, Huntz Hall, Bobby Jordan, Bela Lugosi, Ava Gardner, Rick Vallin, Minerva Urecal, Wheeler Oakman...
More info...
Doors
Interview With Jim Morrison
More info...
FANS AT JIM MORRISON GRAVESITE
Fans of singer Jim Morrison, who led the 1960's rock group The Doors, flock to his gravesite on the anniversary of his death. Jim Morrison died of a drug overdose on July 3rd, 1971 and is buried...
More info...

Preview Unavailable
VW-MOR-1 3 4in.
DANNY SUGARMAN - MORRISON BIO
More info...
DENSMORE AND THE DOO
00:00:00:00 [Fmr mbr of 'Doors' John Densmore writes book 'My Life With Jim Morrison']--VS party at NY's Hard Rock Cafe to celebrte Densmore's book/ SOT Densmore si...
More info...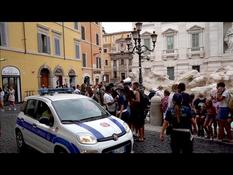 Rome police ask tourists to wear masks
Others
More info...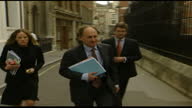 RUSHES: Hutton inquiry: Day 1: Arrivals
Hutton inquiry: Day 1: Arrivals; ENGLAND: London: Royal Courts of Justice: EXT Arrivals at rear of courts as past railings & into side door of court / John Morrison (BBC News) along towards & into...
More info...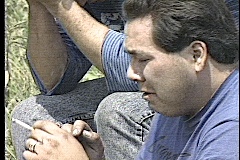 6 DEAD/CAR CRASH
More info...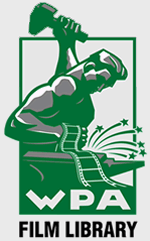 Preview Unavailable
LAWMAKERS
WETA LAWMAKERS 1/13/1983 IN 00 59 32-WETA credit/sponsor credits/title sequence 01 00 24-PAUL DUKE-on program-REAGAN appears willing to compromise his economic plan in face of DEFICITS and like...
More info...
Paramount
Stage and screen actor Richard Bennett with his later-to-be-famous daughters
More info...
BULGANIN AND KHRUSHCHEV VISIT SOVIET EMBASSY
London. Herbert Morrison arriving to Soviet Embassy. Prime Minister of USSR Nikolai Bulganin and Secretary of the Soviet Communist Party Nikita Khrushchev arriving to Russian Embassy. More peopl...
More info...
---