Your search for "hippo" returned 3779 results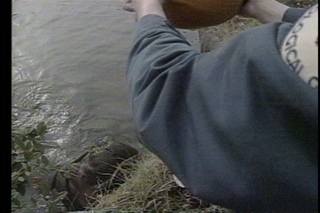 PUMPKIN EATING HIPPOS
WONDERING WHAT TO DO WITH YOUR JACK-O-LANTERNS NOW THAT HALLOWEEN HAS PASSED? THERE ARE SOME HUNGRY HIPPOS AT A SEATTLE ZOO WHO ARE FEASTING ON LEFTOVER JACK-O-LANTERNS. A GROCERY STORE DONATED...
More info...
Ruins of Egyptian civilization.
View of ruins of Egyptian civilization. Ancient Egyptian statuettes. Statue of Hippo goddess and cat goddess. Location: Egypt. Date: 1951.
More info...
ELEPHANT SEAL & HIPPO FAMILY
A 3, 000 pound elephant seal and mother hippopotamus and baby are among the sights enjoyed at the Brookfield, Illinois zoo.
More info...

Preview Unavailable
Hungry Hippo; 11/22/01
Hungry hippo (57:00)
More info...
Czech Baby Hippo
Czech zoo presents baby hippo
More info...

Preview Unavailable
DN-116 1 inch
Zoo Story, The
More info...
Preview Unavailable
Germany Hippo - Pygmy hippo baby shown off to...
NAME: GER HIPPO 210105N TAPE: EF05/0069 IN_TIME: 10:04:19:23 DURATION: 00:02:12:14 SOURCES: APTN DATELINE: Berlin, 21 Jan 2005 RESTRICTIONS: SHOTLIST: 1. Pan exterior entrance to Berlin Zoo 2. Ex...
More info...
: Hippos in water
Hippos in water 1139-Safari 1-2 stock footage
More info...
Africa 1930s, wildlife including zebras, gi...
Part 7 of Aux Quatre coins du Monde avec Lowell Thomas / Going Places with Lowell Thomas. African wildlife including zebras, giraffes, lions, hippos, elephants, insects, and chameleons. A whi...
More info...

Preview Unavailable
Baby Hippos
A cute little clip with CUs of baby hippos swimming and eating from two dishes and then from the same dish. Also a CU of a marmoset on a stand. DOC/WA - 1950's - BW
More info...
BABY HIPPOPOTAMUS
Ruhr Zoo, Gelsenkirchen, Germany. CU. The young baby hippopotamus with its mother. MS. The baby and its mother being fed through iron bars. CU. The young baby hippo. MS. Mother pushing baby h...
More info...
Preview Unavailable
---