Your search for "Lebanese army" returned 2673 results
27772 Summer Incident
27772 U.S. NAVY 6th FLEET IN LEBANON CRISIS 1958
More info...
Preview Unavailable
Interview with Joseph Farah
01:02:57>>>, INTERVIEWER:, What would you say are the number one myths that outsiders have about this Arab/Israeli conflict? JOSEPH FARAH:, My name is Joseph Farah. I'm a lifelong journalist. I've ...
More info...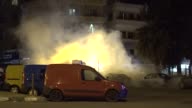 Tension remains high in Lebanon's Tripoli as ...
TRIPOLI, LEBANON - APRIL 29: Clashes continue in the northern city of Tripoli ton April 29, 2020 after protesters targeted banks and other buildings. the Lebanese Army fired tear gas canisters to...
More info...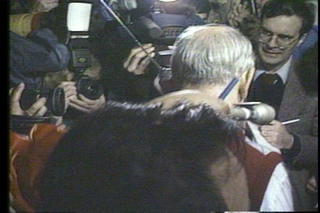 CICIPPIO RELEASE REACTION
AMERICAN HOSTAGE JOSEPH CICIPPIO WAS ON HIS WAY TO DAMASCUS SYRIA MONDAY AFTER BEING RELEASED BY HIS PRO-IRANIAN KIDNAPPERS IN LEBANON AFTER MORE THAN FIVE YEARS IN CAPTIVITY SAID A CICIPPIO RELATI...
More info...
MEEX Lebanon Army Day
President speaks at Lebanese Army Day
More info...

Preview Unavailable
JL-188 Beta SP
THE CONFLICT AND THE COST
More info...

Preview Unavailable
CONTEMPORARY STOCK FOOTAGE
LEBANESE TROOPS OUT IN A FIELD STANDING AROUND CASUALLY. TWO ARMY MEN WALKING AROUND IN A FIELD. ENTIRE TROOP LINED UP IN RUGGED OUTDOORS.
More info...
US ARMY TRAINS LEBANESE TROOPS IN USE OF M-41...
Beirut. LS. Military band. Various shots of VIP's arriving, including Gen Paul Adams and Colonel Lahoud. LS. Parade and dais, awaiting arrival of VIP's. MS. VIPs past Guard of Honour with M-4...
More info...
SNOW/LEBANESE ARMY
More info...
Fighting In Lebanon
The Lebanese army attacking militant hideouts in a Palestinian refugee camp in Lebanon. They use artillery to bomb buildings. Tanks roll through the area preparing to fire on the hideouts.
More info...
General Paul Adams and U.S. Ambassador Robert...
Unites States forces in Lebanon during the Lebanese crisis. U.S. Army soldiers lined up. Chief of Staff of Lebanese Army, General Fouad Chehab, and U.S. Army General Paul D. Adams walk towards Ro...
More info...
Preview Unavailable
UNITED STATES MARINES TRAIN THE LEBANESE ARMY
BARS. VS SOLDIERS JUMP OUT OF A TRANSPORT HELICOPTER DURING AN EXERCISE. CU LEBANESE SOLDIERS RELAXING. CI: MILITARY: ARMY, LEBANESE. MILITARY: TRAINING.
More info...
---