Your search for "couple rain" returned 5303 results
Mountain lake young couple in canoe rain. Rai...
Travel, Blue, Green, Land, Pristine, United States, Alpine, Coniferous Forest, Lake, North America, USA, Utah, 4k, activity, adventure, alpine, america, beautiful, beauty, ...
More info...
Preview Unavailable
Hurricane Flossy
Extensive newsreel coverage tracks the trail of disaster left in Louisiana, Alabama and Florida by a hurricane. Crashing waves, big winds, flooded streets. A couple of men walk in the storm. A b...
More info...
Restaurants and clubs at night time in Paris,...
(Only Fragments of Sound.) Night time in Paris, France. A neon sign at a club in Paris for Le Rat Mort. Visitors seated at tables. Acrobatics performed on stage. Neon signs at clubs and cafes. Pe...
More info...
16mm: Anza Borrego Desert ruins rain pan ruin...
Desert rocky remote terrain plant life foliage remote wilderness abandoned homesite ruins couple Model T driven renactment * Anza Borrego Desert ruins rain pan ruins Anza Borrego Desert ruins wide ...
More info...
Glass frogs mating
Mating glass frogs (family Centrolenidae) in the characteristic amplexus position, with the male grasping the female from behind. Glass frogs are named for their translucent skin, which allows in...
More info...
BRET PREPS & MOS'S
00:00:00:00 - people outside taking pictures in the rain shaky video of rough sees, rain 16:36:40 boat moving along 16:38:05 couple planning to ride out the storm and "experience a hurricane&...
More info...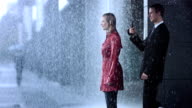 Helping Umbrella
HD1080p: Businesswoman in a red coat standing all wet in the rain while her colleague surprise her with an umbrella. After covering her under his umbrella, she give him a warm hug.
More info...
78644 Tower Of The Sky
78644 TOWER TO THE SKY U.S. NAVY MICRONESIA FILM YAP, RUMUNG, GAGIL-TOMIL, MAP
More info...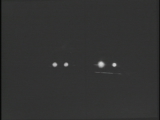 SAFETY
CU COUPLE DRIVING IN RAIN
More info...
1960s
b&w commercials for AT&T phone company - telephone commercial - communications - communication - old man standing in the clouds - bowler hat - people with the blues - depressed - bummed out - coupl...
More info...
NIAGARA FALLS WET WEDDING
This young man and woman decide to tie the knot on board a boat at the base of Niagara Falls. Rain slickers keep them dry through the ceremony until it's time to kiss the bride.
More info...

Preview Unavailable
DN-227 1 inch
City Officials Gather To Attend Wedding of John F. Curry's Son
More info...
---