Your search for "driving desert freeway" returned 531 results

Preview Unavailable
PET-394 1 inch
PETRIFIED MATERIAL
More info...
1970s
Mojave - moving pov travel straight back on desert highway, process plate - Driving plates - POV - P.O.V. - Motion plates - various cars and trucks in opposite lane - two lane freeway - gray car p...
More info...
Cars driving down a desert highway in front o...
Land, United States, Nevada, afternoon, along, angled, asphalt, beauty, brush, bush, car, day, desert, dramatic, drive, driving, driving by, dusk, freeway, green, highway, hill...
More info...

Preview Unavailable
CONTEMPORARY STOCK FOOTAGE
T/L dawn in the mtns., VAR T/L mtns. w/ blue sky; VAR FUNNY: man doing tricks with T/L in middle of desert, VAR T/L mono lake, T/L mtn road; T/L city & bridge going over bay (sunset) & T/L night...
More info...
AZ V ARIAS B-ROLL 1
More info...
POV Highway Footage
Master 124 - Tape 1 Traveling shot past road signs reading ' US 101' and 'Hollywood Freeway - Civic Center' car makes a right turn for the freeway POV driving freeway ramp POV driving slowly al...
More info...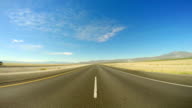 WS POV Driving On Mojave Freeway
HD1080p: Wide angle car point of view driving on Mojave freeway from LA to Las Vegas. California. USA
More info...
Preview Unavailable
COSMOPOLIS
ZOOM OUT PRAIRIE RESIDENTIAL SUBDIVISION W / LAND CLEARING OPERATION CONTINUING JUST A FEW FEET AWAY. VS DESERT REAL ESTATE OFFICE. HA PAN MESA DEL CONEJO W / MT. RANGE IN BG. VS MOTHER IN AUTO DRI...
More info...
35mm: Night car driving pov into tunnel freeway
Night car driving pov into tunnel freeway Roadside attraction San Francisco driving pov small western town driving pov desert highways roads cuckoo clock supermarket Roswell Texas restaurants chess...
More info...
DESK DELIVERY RN20
Others
More info...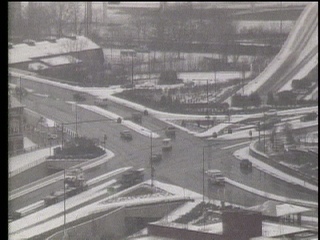 wx - knoxville - snow (01/06/1999)
Snow in the Knoxville area is creating traffic headaches and road closings.Eastern Tennesseeans woke up to a wild commute in to work this morning. Unexpected snow and icy conditions caught ever...
More info...
DRIVING PARALLEL TO DESERT RAINSTORM - HD
View of a desert rainstorm, from a moving highway POV. Mastered in H.264 HD 1920x1080 29.97 fps - all forms of HD and SD available.
More info...
---