Your search for "Krishna" returned 919 results

Preview Unavailable
DN-B-305 Beta SP
Suez Crisis Eased By Conference
More info...
India Festival (CR)
Raw: Celebration of Krishna's Birthday in Mumbai
More info...
Medium wide angle electric illuminations outs...
Medium wide angle, illuminations, electric lights, Krishna Temple, Indian temple, visitors, devotees, Krishna, lights, Hindu gods, India, Krishna Guruvayoor temple, Kerala
More info...
HARE KRISHNAS (CQ01758)
1974: Group of Hare Krishnas singing and dancing on the street. ;The Guru Kula school in Dallas, Texas.;Children living at school, taught the religion. ;Young girl interviewed. ;Kids in Krishna g...
More info...
INDIAN TROOPS SENT TO THE CONGO
India sends soldiers including Gurkha riflemen to join the United Nations troops stationed in the Democratic Republic of the Congo. Defense Minister Krishna Menon addresses the soldiers and sees th...
More info...
Indian troops going to Congo to join United N...
Indian troops leaving for Congo to join United Nations Forces. Indian soldiers walk between camps and pack bags. Soldiers with rifles. Senior officer meets with a junior officer. Indian Defence Min...
More info...
Preview Unavailable
KRISHNA FESTIVAL
ORIG. COLOR 400 SIL. VS AMERICAN HARE KRISHNA'S CHANT AND PLAY INDIAN MUSICAL INSTRUMENTS AT HARE KRISHNA FESTIVAL HELD IN A HUGE TENT. VS HUGE CROWD CLAPPING. VS CEREMONY. CI: GEOG: INDIA, NEW D...
More info...

Preview Unavailable
Krishna Menon Speaks
Brief clip of Indian Defense Minister Krishna Menon standing before microphones and speaking. DOC/WA - 1962 - B/W
More info...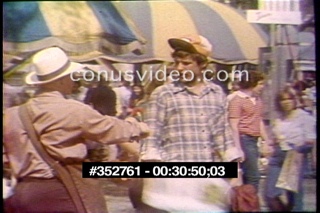 HARE KRISHNA RULING (1981)
More info...
Congo Crisis / Peacekeeping / ONUC / India / ...
1961, INDIAN TROOPS TO CONGO: India dispatches 4, 700 crack combat troops to join United Nations forces in the Congo. Flown in by U.S. Air Force transports, the troops which include tough Gurkha ...
More info...
: demonstration banners crowds hippies, hare...
Demonstration banners crowds hippies, hare krishnas 1467 stock footage
More info...
Mother reunited with shopping centre 'midwife...
Krishna Barot, 32, was at Silverburn in Glasgow, shopping for aromatherapy oils for the water birth she had planned when she started having contractions. Her waters broke when she went to the to...
More info...
---