Your search for "zimbabwe" returned 6028 results
Preview Unavailable
U.N. GENERAL ASSEMBLY ADMITS ZIMBABWE
U.N. GENERAL ASSEMBLY ADMITS ZIMBABWE
More info...
Zimbabwe
Zimbabwe. Home movies of a national park in Zimbabwe. 1950s, Zimbabwe, Africa, National Parks of Southern Rhodesia / Zimbabwe National Park / Shooting Prohibited sign, Great Zimbabwe, Matopos ...
More info...
Elephant foraging silhouette
African elephant. Close-up of a male African elephant (Loxodonta africana) kicking up a tuft of grass to free it from the soil before eating it. African elephants are herbivores and are the world's...
More info...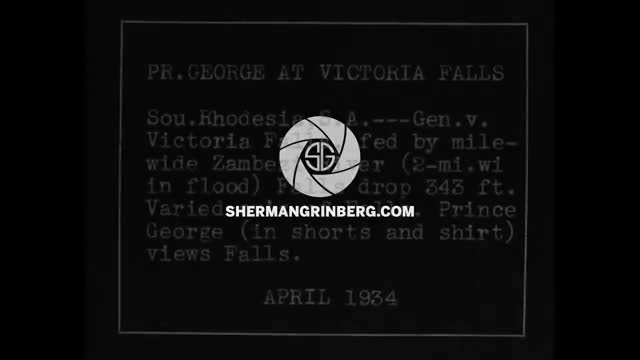 Paramount
Prince George visits Victoria Falls
More info...
Even The Grass Grows Red Here - Zimbabwe War ...
Even The Grass Grows Red Here This film was made in 104 days of shooting over the entire continent of Africa It is a history of how the blacks came to be dominated by the whites in the various c...
More info...
Washington DC - cu's various Embassy signs - Swaziland - Eritrea - Namibia - Montenegro - Zimbabwe - sign for "Institute for International Economics" - Embassy signs for Uzbekistan - Chile - Peru -...
More info...
CONTEMPORARY STOCK FOOTAGE
ZIMBABWE CONSTITUTION
More info...

Preview Unavailable
Flood On The Zambezi
Floodwaters swell the Zambezi River, near Victoria Falls. A building is partially submerged. Aerial shot shows bridge over falls, water misting up in a white cloud. DOC/WA - 1950's - B/W
More info...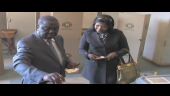 ZIMBABWE:TSVANGIRAI VOTING
Presidential elections in Zimbabwe Morgan Tsvangirai casting his vote
More info...
NEW HOMES FOR POLES IN LUSAKA
Lusaka, Rhodesia (Zimbabwe). Various shots of Polish refugees arriving to Lusaka on train. Several shots of lines of new houses. Several shots of Polish refugees in and around the houses - main...
More info...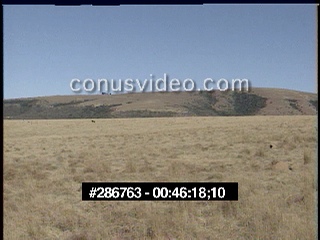 AFRICAN OSTRICH FILE (1995)
FOOTAGE OF WILD OSTRICH COUPLE WITH BABIES TAKEN IN ZIMBABWE.
More info...

Preview Unavailable
MTR-1PL Beta SP
How to Save Africa tape #35
More info...
---