Your search for "France Charles de Gaulle Airport" returned 4692 results
Nixon in France, 1969
Clip 9 from the 'The First Step: President Nixon's European Visit', a film produced by the United States Information Agency in 1969, covering Richard Nixon's European visits and meetings. In this...
More info...
France Virus Airport
Charles de Gaulle airport deserted amid lockdown
More info...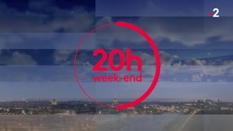 8 p.m. [June 18, 2021 issue]
A2 / France 2
More info...
Preview Unavailable
De Gaulle & Emperor
French Pres. De Gaulle visits Emperor Hailie Selassie in Ethiopia. Interesting shot of large photos of the two leaders held high in a crowd. People run along the Emperor's elegant carriage. De Gaul...
More info...

Preview Unavailable
JL-192 Beta SP; 16mm
BEACHHEAD REVISITED - TEN YEARS AFTER D-DAY
More info...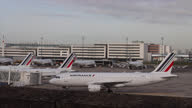 Air France Aircraft On The Tarmac Of Charles ...
PARIS, FRANCE - JANUARY 18: Air France aircraft on the tarmac of the Charles de Gaulle airport (CDG) on January 18, 2021, in Paris, France. From January 18, the government imposes 7-day isolat...
More info...
72582 Flight To Immortal Rome
72582 AIR FRANCE TRAVELOGUE OF ROME, ITALY by ANDRE DE LA VARRE
More info...
Charles De Gaulle
A profile of politician Charles de Gaulle. Co-production with the BBC.
More info...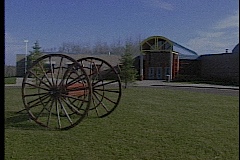 Fea: Fire Training
AT LEAST ONCE A WEEK, A SIMULATED DISASTER TAKES PLACE IN A RURAL AREA IN NORTHEASTERN MINNESOTA. IT IS A DRAMATIC RE-CREATION OF WHAT EMERGENCY PERSONNEL MIGHT FACE IF A JETLINER CRASHES ...
More info...
PARIS AIRPORT LONG
More info...
DE GAULLE WELCOMES KING HUSSEIN - 1964 - HD
French president Charles de Gaulle greets King Hussein of Jordan at the Paris airport to welcome him during his visit to France. Direct transfer from film, Apple Pro Res 422 HQ 1080p.
More info...
De Gaulle in Canada
Sequence showing arrival of President Charles de Gaulle of France at Uplands, formal welcome, inspection of Royal Canadian Air Force honour guard, speeches. CU of plaque at Quebec Seminary, of ...
More info...
---