Your search for "Berlin fence" returned 1087 results
Italian Giulio Gaudini versus Andre Gardère a...
Fencing event at Berlin Olympics, Germany. Italian commentator relating details. In another fencing event, Giulio Gaudini from Italy defeats Andre Gardère of France. Location: Berlin Germany. Dat...
More info...
Two Afghans from Berlin talk about the situat...
AFP video
More info...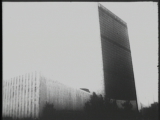 1960s NEWSREELS
EAST GERMANS ESCAPE THROUGH CUT FENCE TO WEST BERLIN. WEST BERLINERS HELPING EAST BERLINERS ESCAPE. WOMAN'S SWEATER GETS SNAGGED ON BARBED WIRE
More info...
64494b Yesterdays Newsreel FDR Makes South Am...
64494b YESTERDAY'S NEWSREEL PRESIDENT ROOSEVELT in SOUTH AMERICA USS INDIANAPOLIS TRAIN WRECK
More info...
Preview Unavailable
10/18/63 A0015346 BERLIN: EAST GERMAN BO...
10/18/63 A0015346 BERLIN: EAST GERMAN BORDER GUARD TRACTORS WAT RO WEST BERLIN: LN 35944 "BORDER ESCAPE" SHOWS: FENCE WHERE TRACTOR BROKE THROUGH: RUSSIAN OFFICERS INSPECTS RACTOR: PREPAR...
More info...
Berlin divided, 1961 - Guards at the Berlin ...
ECU of barbed-wire on the Berlin Wall. A guard in the background at the Brandenburg gate. A family with children talking to the guards on patrol in the space between East and West Berlin. People st...
More info...
BERLIN WALL CONSTRUCTION - HD
East German soldiers make improvements on the Berlin Wall.
More info...
Pathe
An elephant seal arrives in Berlin
More info...
Preview Unavailable
History of Nazi Germany Part 1, 2, 3
01:59:42:25>>>B/W 1937 ZOOM IN from book on table, entitled The Rise and Fall of the Third Reich: A History of Nazi Germany by William L. Shirer. Germany, 1937. VS Nazi youth blowing long horns, ...
More info...
Preview Unavailable
Berliners Escape To West
Shots of patrolling East German border guards intercut with East Germans running through barbed wire towards freedom. A young woman briefly gets tangled in barbed wire as she flees. Later, looking...
More info...
BERLIN BORDER PATROLS
Berlin, Germany Patrol dog sniffing around next to the Berlin Wall. Various shots of Berlin wall fencing, camera pans to show army vehicles Alsatian patrol dog skirting the perimeter of the Be...
More info...
1948
b&w newsreel - East German blockade - refugees await processing - families - Berlin Airlift - people board plane - plane takes off - people at railroad station - troops build Berlin Wall - unroll b...
More info...
---