Your search for "Barack Obama Chicago" returned 2711 results

Preview Unavailable
++US Obama Returns
President Obama Returns to From Chicago
More info...
contemporary
ground real-time montage barack obama and family arrive on stage on presidential election night barack obama supporters crowds cheering waving american flags victory politics chicago 2008
More info...
President Obama Victory Speech
More info...
Obama family boards campaign plane
B-roll Barack, Michelle, Sasha, and Malia Obama boarding campaign plane to Des Moines Chicago, IL 5/20/2008
More info...
PRESIDENT BARACK OBAMA DEPARTS CHICAGO
President Barack Obama departs Chicago for New York City
More info...
Preview Unavailable
Christmas: Barack Obama buys its fir
The elected president Barack Obama bought its Christmas tree in Chicago.
More info...
OBAMA AT CHICAGO CAMPAIGN HQ - HD
President Obama makes a few last-minute election campaign calls to voters in the swing state of Ohio from his headquarters in Chicago. PLEASE NOTE - news reporter audio is for reference only and is...
More info...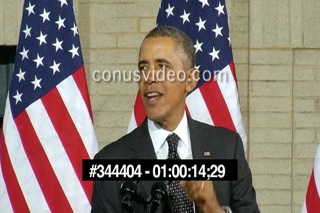 BARRACK OBAMA VISITS THE TWIN CITIES (2014)
When White House officials chose St. Paul's Union Depot for President Barack Obama's announcement Wednesday of a $600 million competition for federal grants to fund infrastructure projects that cre...
More info...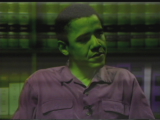 MISC PRESIDENTS
Q: WHY DID YOU COME TO CHICAGO? LOST INTERVIEW FROM 1994 WITH YOUNG BARACK OBAMA Obama: (00:00) I had just gotten out of college. I was at Columbia University in New York. And Harold Washi...
More info...
OBAMA CHICAGO ARRIVAL
FTG PRESIDENT BARACK OBAMA ARRIVING IN CHICAGO
More info...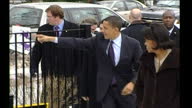 Presidential election primaries: 'Super Tuesd...
Presidential election primaries: 'Super Tuesday' voting begins; USA: Illinois: Chicago: EXT / SNOW Barack Obama (Democratic presidential candidate) waving and shaking hands with supporters as along...
More info...
---