Your search for "impeachment article one" returned 1208 results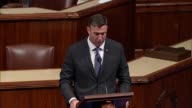 Congressman Hunter supports Rosenstein impeac...
California Congressman Duncan Hunter says to imagine living in a country where the government decided who was free based on politics, which was really happening, saying colleagues were right to i...
More info...
45364 Vietnam Protest_Ling
45364 1971 VIETNAM WAR PROTEST HIPPIE HOME MOVIE WILLIAM LING
More info...
ELECTIONS USA - DONALD TRUMP PEARLS (remixed ...
A2 / France 2
More info...
Preview Unavailable
CLINTON IMPEACHMENT SENATE HEARING
15:30:22 APTN SLATE. 15:30:44 NAT SOT CS ON THE SENATE IMPEACHMENT HEARINGS / VS OF THE SENATE VOTING ON ARTICLES OF IMPEACHMENT ON THE LAST DAY OF IMPEACHMENT HEARINGS. 15:32:20 MS OF SUPREME ...
More info...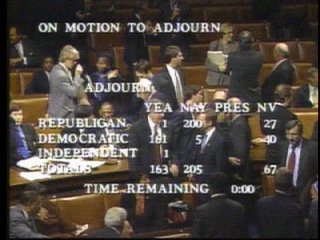 article - i - read (12/18/1998)
Clerk of the House Paul Hayes reads the House agreement on article one of impeachment against President Clinton. This article is one of two that deals with perjury.
More info...
HYDE IMPEACH SENATE
/n00:00:00:00 /n- *cg locator2 Washington January 7 Rep. Henry Hyde on senate floor reading impeachment article one/n (0:00)/ /n
More info...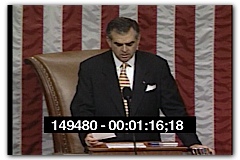 CLINTON impeachment (12/19/1998)
More info...
IMPEACHMENT HRG:JORDAN-ARTICLE 1 IGNORES THE ...
***FOR STORY INFORMATION, SEE ITEM PO-17TH***\n\n --SUPERS--\nThursday\nWashington\n\nRep. Jim Jordan\n(R) Ohio\n\n --SOT--\nRep. Jim Jordan: "Article one in this resolution ignores the truth, ...
More info...
Off usa vote impeachment procedure against do...
TF1 News (Private - August 1982 ->)
More info...

Judiciary committee on impeachment
Judiciary committee on impeachment; USA: Washington: GV 'Judicial Committee' members seated: MS Chairman Peter Rodino PULL OUT and PAN members R-L: CS ZOOM 'Constitution Article 1':...
More info...
Preview Unavailable
WHITE HOUSE
MINISTER TONY CAPOLO LEAVES WHITE HOUSE AFTER SITTING WITH PRESIDENT BILL CLINTON DURING THE HOUSE FLOOR VOTE ON ARTICLE ONE IMPEACHMENT. B-ROLL DEPARTURE WHITE HOUSE
More info...
UNITED STATES SENATE 1200-1300
SENATE FLOOR DEBATE: The Senate convenes a live quorum to begin the Court of Impeachment for resuming consideration of the articles of impeachment against Judge G. Thomas Porteous, Jr. of the East...
More info...
---