Your search for "macedonia earthquake" returned 44 results
Preview Unavailable
LONDON FEED
18:06:05 CS / VO JERRY KING AS US UNITED NATIONS PEACEKEEPING TROOPS DISEMBARK FROM A TRANSPORT JET IN MACEDONIA. MS AS A US SOLDIER SAYS THEY ARE THERE AS PEACEKEEPERS. SU KING. VS OF UN TROOP...
More info...
WHITE HOUSE BRIEFIN
00:00:00:00 [TWO-CHANNEL AUDIO] [Ari Fleischer presser on Middle East conflicts and Mitchell Plan, Patients' Bill of Rights]---SOT Fleischer John Ordway to be Amb to Rep of Armenia; Brian...
More info...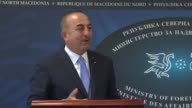 FM: Turkey to send 4th ship to Eastern Medite...
SKOPJE, NORTH MACEDONIA - JULY 16: Turkey will increase its activities in the Eastern Mediterranean and it will send 4th ship to the region, Turkish Foreign Minister Mevlut Cavusoglu says during ...
More info...
Chairman Khruschev and President Tito visit t...
Chairman Nikita Khrushchev and Yugoslavian President Josip Broz Tito touring earthquake areas of Skopje city, capital of Macedonia, (in then Yugoslavia). Khrushchev visits the earthquake devastat...
More info...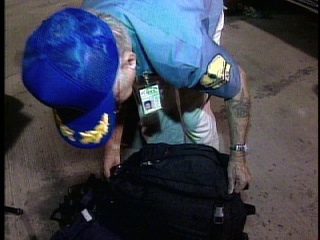 Turkey - Help
A GROUP FROM NORTH TEXAS IS GOING TO TURKEY TO HELP THE EARTHQUAKE VICTIMS.
More info...
Macedonia Earthquake
Magnitude-5.3 quake hits Macedonia
More info...
( KHRUSCHEV VISITS YUGOSLAV EARTHQUAKE AREA )
Unissued / Unused Material - Khruschev and Tito tour an earthquake zone in Macedonia - accompanied by their wives. Serbo-Croat titles. Skopje, Macedonia (Former Yugoslavia). LS Plane...
More info...
Rescue operations in city of Skopje following...
Ruins and rubble in city of Skopje, the capital of Macedonia, following a massive earthquake. Destroyed houses, wrecked cars and rubble of buildings in the city. Inhabitants are evacuated. Women...
More info...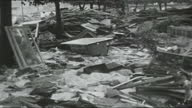 ITN Roving Report: A Tale of Two Cities
ITN Roving Report: A Tale of Two Cities; (A CITY WITHOUT A ROOF) YUGOSLAVIA: Macedonia: Skopje: Earthquake damage to buildings, Reporter to camera, Clock stopped at time of earthquake, More of ...
More info...
Preview Unavailable
TURKEY: EARTHQUAKE DISASTER: BABY BORN AMONGS...
TAPE_NUMBER: EF99/0929 IN_TIME: 12:06:43 - 15:03:49 (also see top of shotlist) LENGTH: 02:08 SOURCES: IHA RESTRICTIONS: No Access Turkey/ Internet FEED: VARIOUS (THE ABOVE TIME-CODE IS TIME-OF-D...
More info...
EARTHQUAKE HITS YUGOSLAV CITY OF SKOPJE
Skopje, Macedonia, Yugoslavia. Title reads 'Yugoslav City Hit by Violent Earthquake'. Various shots of the wrecked buildings and smashed cars as a result of the violent earthquake which has...
More info...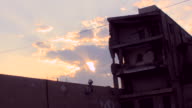 WS View of old train station destroyed by ear...
More info...
---