Your search for "Garden City Nighttime Dashcam" returned 10 results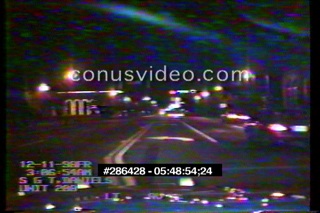 NIGHT CHASE INTO TREE (1998)
A QUICK PURSUIT OF A STOLEN CAR THAT ENDS UP CRASHING INTO A TREE. NO SOUND.
More info...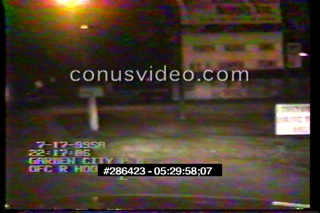 POT AND BOOZE CHASE (1999)
A COP PULLS OVER A CAR A HAS A FEELING THE GUYS ARE GOING TO TRY TO RUN. HE SMELLS ALCOHOL ON THE DRIVERS BREATH AND SEES MARIJUANA IN THE CAR . THE GUYS RUN AND THE COP GETS QUITE MAD WHEN HE HA...
More info...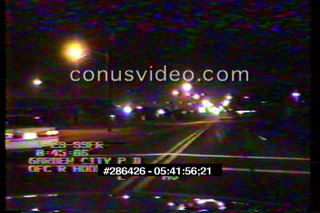 CRAZY BACK ALLEY CHASE (1999)
A NIGHT POLICE CHASE THROUGH BACK ALLEYS AND RESIDENTIAL STREETS.
More info...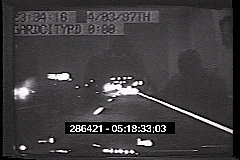 GHOST CHASE AND WRECK 1997
A REALLY GOOD CHASE AND WRECK IN THE END. NOTE: THIS DASHCAM IS SHOT FROM A TELEVISION MONITOR AND THERE IS A SLIGHT REFLECTION IN THE VIDEO.
More info...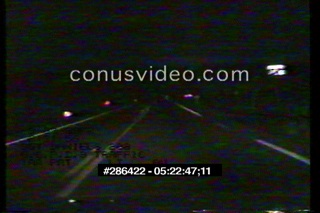 CITY STREET CHASE (1999)
THIS IS A CHASE INVOLVING 2 MALE SUSPECTS WHO ARE DRIVING VERY FAST THROUGH SOME CITY STREETS BLOWING RIGHT THROUGH RED LIGHTS. TOWARDS THE END OF THE CHASE, THE COP IS AFRAID HE'S GOING TO RUN O...
More info...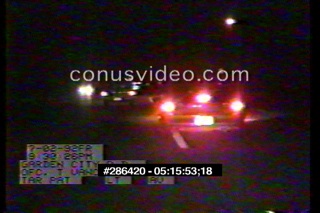 GREEN CAR CHASE AND WRECK (1992)
A CHASE INVOLVING A MAN IN A STOLEN CAR AND WHO EVENTUALLY WRECKS THE VEHICLE. THE DRIVER GETS EJECTED AND WHEN THE OFFICER GETS THERE HE TELLS HIS PARTNER THAT THE GUY IS IN BAD SHAPE AND THE OTH...
More info...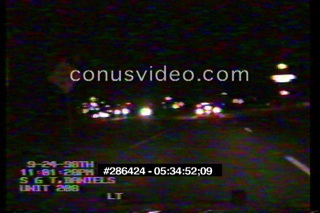 WRONG WAY BOX IN CHASE (1998)
THIS IS A GREAT CHASE OF A WHITE CAR WHERE THE COPS TRY TO DO A ROLLING BOX STOP, BUT THE SUSPECT WILL HAVE NO PART OF IT. AT ONE POINT THEY ARE TRAVELING ON THE WRONG SIDE OF THE ROAD AGAINST TR...
More info...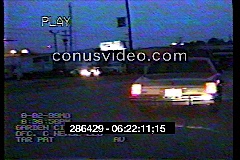 STOP AND GO CHASE 1999
THE SUSPECT GETS PULLED OVER AND AS SOON AS THE COP APPROACHES THE CAR, IT TAKES OFF. THEY ARE DRIVING ERRATICALLY ALL OVER THE ROAD AFTER RUNNING INTO A MEDIAN AND END UP WITH 2 FLAT TIRES. THE...
More info...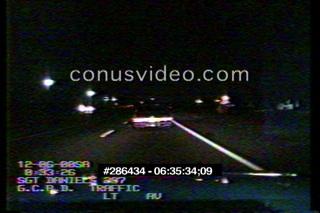 STOLEN CAR PURSUIT (2000)
A SUSPECT REFUSES TO PULL OVER AND IT PROGRESSIVELY TURNS INTO A FULL-BLOWN PURSUIT. WHEN THE CHASE STARTS, THE OFFICER SAYS "PUT ON YOUR SEATBELT." THE COP THEN PULLS OFF A GREAT PIT MANUVER AN...
More info...
WHITE VAN PURSUIT (1998)
A GOOD CHASE INVOLVING A STOLEN VAN. ONE OF THE OTHER PATROL CARS ALMOST CRASHES DURING THE CHASE. AT ONE POINT THEY ARE DRIVING THE WRONG WAY.
More info...
---