Your search for "Harding ship" returned 6076 results
Reportages nº 67
Wrecking of prison ship: sequence of prison ship rolling against the rocks, heavy seas smashing over deck and rocks, German prisoners of war leaving sinking ship, holding on to rocks as water wa...
More info...
Preview Unavailable
A GIANT SHIP THAT NO ONE WANTS THE DELTA PRID...
FTG OF THE CREW / AERIAL FTG OF SHIP / LUNCH GALLERY / SHIP INSPECTION BY COAST GUARD FOR STEVE OSUNSAMI CS ON THE ABANDONED SHIP THE DELTA PRIDE
More info...
USS ROOSEVELT D
00:00:00:00 [Crew leaves ship after hard & long combat duty at sea]--- PAN sailor comes down gangplank to loved ones / PB officers & CPOs come down the gangplank / MS crowd strains to l...
More info...
Chasing rum runners
shots of ships being sunk in an attempt to create world peace. Harding dies. Casket and funeral parade seen. Shots of Coolidge fishing and then on back of train taking oath of office. Police o...
More info...
HD: Rural Chinese village river ox cart peopl...
Rural Chinese village river ox cart people walk along pathway farmers industrious hard working * Tall sailing ship, paddle wheel on Mississippi, china military parade KMHD5 _ 1228 stock footage HD
More info...
Large naval convoy escorted by U.S. Naval war...
Large U.S. navy convoy with Battleships at sea, Amphibious DUKWs leave LSM Landing ship in deep water and motor to shore. Some are loaded with 105mm howitzers. Other LSM (Landing Ship Medium) mane...
More info...

Preview Unavailable
DN-1 1 inch
President & Mrs. Harding, Sec'y Denby, Adm Wilson & Asst. Sec FDR
More info...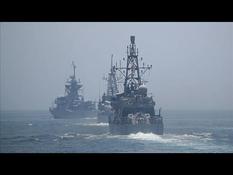 US Navy participates in exercise with Qatar Navy
AFP video
More info...
Pathe
Hard winter freeze encases ships in ice in North Atlantic
More info...
1960s NEWSREELS
MS JAPANESE HARD HATS LOOK OVER RAILING AT SHIP
More info...
Preview Unavailable
Harding's Presidency
From Warren G. Harding's inauguration shots of him in a vintage car and at the podium. DOC - 1920's - B/W
More info...
STORM IN BALTIC
Unissued / Unused material. Storm in Baltic sea. M/S sea. Various shots sea breaking over a wall. Various shots of rough seas. M/S rough sea showing a Swedish ship in background, it is sno...
More info...
---