Your search for "California Chase Dog" returned 238 results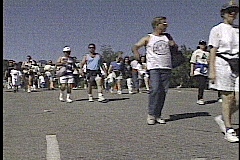 EARTH DAY CELEBRITY WALK (04/22/1995)
CELEBRITIES SHOW THEIR SUPPORT FOR THIS YEAR'S EARTH DAY BY HAVING A EARTH WALK.
More info...

Preview Unavailable
CONTEMPORARY STOCK FOOTAGE
NEWSFEED: 8/19/03, FREEWAY CHASE, ARREST, GW BUSH BRIEFING, TRAFFIC JAM, VEGAS FLOOD, GRAY DAVIS SPEECH, RESCUE ATTEMPTS; NX EXT aerial from helicopter of super-slow freeway chase, car tail...
More info...

Preview Unavailable
PA-2148 1 inch; PA-2149 or PA-2150 Be...
[Gould can 5165.2]
More info...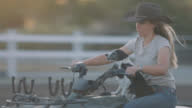 Cowgirl rides ATV with small dog in lap and l...
A beautiful cowgirl rides her ATV with a small dog riding in her lap and a large dog chasing behind her on a farm.
More info...
ARLETA CALIFORNIA POLICE CHASE AND STANDOFF /...
EXT BROLL CHOPPER AERIALS OVER POLICE CAR CHASE AND STANDOFF POLICE CHASE ENDS IN ARLETA AREA; SUSPECT DEAD IN TRUCK A police chase out of the Sylmar area has come to an end in Arleta, with the...
More info...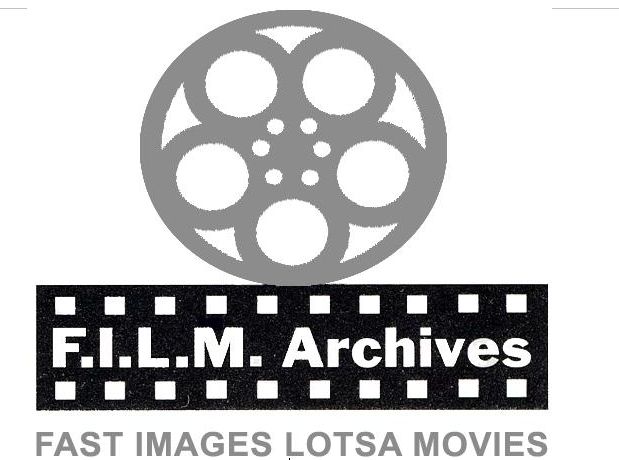 Preview Unavailable
; 1951 (NEWS #199), 1952 (#200-201), 1954 (...
NEWS #199, EISENHOWER IN LUXEMBOURG ON FAREWELL TOUR EISENHOWER LAYS WREATH IN LUXEMBOURG EISENHOWER AND MAMIE WALK IN PARADE, GI LEAPS TO SKI SWEEP AT BEAR MOUNTAIN SKI JUMP ACTION, COLD CROWD ...
More info...
Pathe
Greyhounds chase lure around track during night dog race
More info...
SIMPSON DOG/(NOT HIS
00:00:00:00 [B-roll of dogs playing in park]-- WS woman in sweatsuit pats dog/ MS woman w German Shepherd & other (unid breed) dog; she throws ball, dogs chase it, snarl at each other; sh...
More info...
Preview Unavailable
Little Kid & Dog Left Behind
A little kid wearing an adult overcoat and hat, and his dog are left behind by friends in a limo. The kid cries and chases after the car. FIC - 1920's - B/W
More info...
MEXICO STORM
00:00:00:00 Mexicali, Mexico 9/25/97 at :00 tree blowing in wind / at :05 POV through windshield of car in heavy rain / at :30 woman sweeps water out of doorway / at :33 dog chasing cars in th...
More info...
Preview Unavailable
California Livestock
Two closeups of cows chewing barley, followed by shot of cows in large pen. Two shots of woman carrying basket of eggs. A tray of eggs is slid into container, followed by a tray full of baby chic...
More info...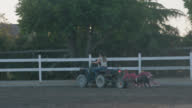 Female farmer rides ATV on farm while dog cha...
A female farmer rides on an ATV on a farm while a large dog chases behind her.
More info...
---