Your search for "63991" returned 5 results
DECREASE IN TAX NICHES
RFO
More info...
Preview Unavailable
PHIL COLLINS INTERVIEW
SHOTLIST : PHIL COLLINS INTERVIEW VARIOUS SHOTS, MEL AND KIM INTERVIEW XINDEX : Personalities, Lifestyle, Entertainment DURATION = 44'00" SOURCE = 639/91 TAPE ...
More info...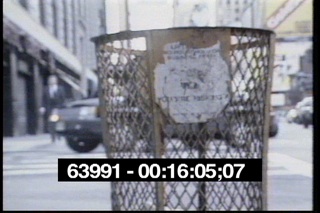 TRASHY ADS (5/22/1995)
NEW YORK CITY'S DEPARTMENT OF SANITATION HAS A NEW SCHEME FOR MAKING MONEY. THEY ARE PROPOSING TO SELL ADVERTISING SPACE ON CITY TRASH RECEPTACLES AROUND TOWN. WHOEVER WINS THE BID THEORETICALLY ...
More info...
FRAC is now part of the local authority
Méditerranée
More info...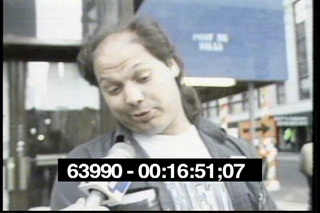 TRASH ADS II (5/22/1995)
MAN ON THE STREET REACTIONS TO THE PROPOSAL TO PUT COMMERCIAL MESSAGES ON NEW YORK CITY TRASH BASKETS.(See also Clip ID 63991 for related video)
More info...
---