Your search for "capitol building threat" returned 2130 results
1968
television - campaign commercials of President Richard Nixon - all still photos - eerie whirring sound in background - ad outlines military threats against United States - b&w photos of Capitol Bui...
More info...
++US Evacuations 2
Capitol building evacuated amid bomb threat
More info...
TRUMAN SPEECH TO CONGRESS
Capitol, Washington D.C., United States of America (USA). Title reads 'Truman Addresses Congress on State of Union'. LS. Britain's Prime Minister Winston Churchill and Conservative MP Anth...
More info...

Preview Unavailable
DN-LB-236 Beta SP
Universal Newsreel
More info...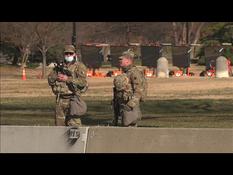 American soldiers guard the Capitol before Bi...
Others
More info...
CAPITOL POLICE PRES
00:00:00:00 [US Capitol police presser. Lt Dan Nichols discusses the latest in the environmental sweep of the Capitol bldg as investigators try to determine if any more anthrax spores are arou...
More info...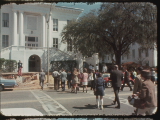 NEWSREELS
CAPITOL EVACUATION. BOMB THREAT. LS WHITE BUILDING WITH PILLARS, PEOPLE STANDING ACROSS STREET, CARS DRIVE BY
More info...
President Ronald Reagan addresses people and ...
Inaugural Ceremony of U.S. President Ronald Reagan at the United States Capitol in Washington DC. People gathered for the ceremony. President Reagan addresses them. He says that he has approved a ...
More info...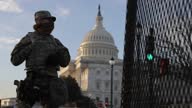 Washington, DC Prepares For Potential Unrest...
WASHINGTON, DC - JANUARY 14: A member of the New York National Guard stands at a gate outside the U.S. Capitol the day after the House of Representatives voted to impeach President Donald Trump fo...
More info...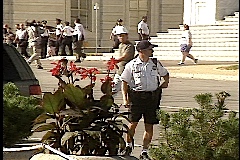 CAPITOL HILL EVACUATION B-ROLL (2001)
This item contains additional b-roll of the evacuation of the Capitol grounds.
More info...
Preview Unavailable
US CAPITOL BOMB THREAT: JAMES ZIGLER COMMENTS
SERGEANT OF ARMS JAMES ZIGLAR COMMENT ON WHY THE CAPITOL BUILDING WAS EVACUATED.
More info...
60984 Washington Close Up
60984 1951 PUBLIC AFFAIRS TV SHOW "WASHINGTON CLOSE-UP" UNITED NATIONS WORLD GOVERNMENT
More info...
---