Your search for "aj foyt" returned 139 results

Preview Unavailable
DN-LB-581 Beta SP
Phoenix [150-mile pre-Indianapolis race]
More info...
Jim McElreath wins the 100 mile race against ...
Formula One automobile racing: 100 mile race at Trenton, New Jersey. Large crowd of spectators gather at the grandstand for the 100 mile race. The race begins. A.J. Foyt loses partial control of ca...
More info...
PILE UP IN CAR CLASSIC
Pile up in car classic. Indianapolis 500 in the United States of America. L/Ss of large crowds lining the track. L/S of thousand of balloons being released before start of race. L/S of the cars ...
More info...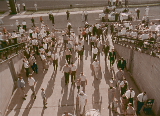 RACING
AJ FOYT PULLS UP
More info...
AJ Foyt Wind Indy 500
AJ Foyt wins his first Indy 500. Glimpses of the race, fans in the stands, pit crews, and winner's greeting after the race. Foyt triumphantly kisses his wife.
More info...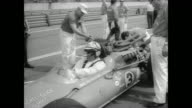 Jimmy Bryan Championship Car Race
People mill about the Phoenix International Speedway before the start of the 150 Mile Phoenix Race AKA Jimmy Bryan Championship / drivers seated in cars preparing for race / CU Mario Andretti, AJ ...
More info...
Preview Unavailable
SPORTS: AJ FOYT WINS INDIANAPOLIS 500 / INDY 500
POSITIVE PRINT 42 FT. SIL MS CAR RACING ON TRACK. MS SEVERAL CARS. MS CROWDS. LS SINGLE CAR. CU CROWDS IN STANDS. LS REFEREE WAVES FLAG AT FINISH LINE. CU RACE CAR DRIVER A.J. FOYT GETS ON HOOD OF...
More info...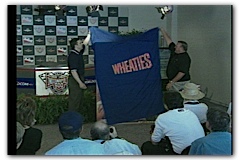 Foyt Wheaties VNR
RACE CHAMPION A.J. FOYT GRACES THE COVER OF WHEATIES BOXES.
More info...
PIERRE CANGIONI WITH JP. JARIER PRESENTE INDI...
RTF / ORTF
More info...
33874 Indys Longest 500
33874 1967 INDIANAPOLIS 500 AUTO RACE MICKEY THOMPSON AJ FOYT
More info...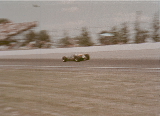 RACING
OVERHEAD SHOT OF AJ FOYT PASSING
More info...
57834 In The Face Of Challenge
57834 RAYBESTOS 1975 AUTO RACING TRIPLE CROWN INDIANAPOLIS 500 SHAFFER 500 ONTARIO 500
More info...
---