Your search for "inauguration 1933" returned 361 results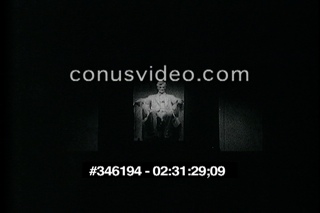 HISTORICAL FILM: PRESIDENT FRANKLIN ROOSEVELT...
Black and white film original, 1945. US President Franklin Roosevelt is mourned following his death in Warm Springs, Georgia, on April 12, 1945. This is a narrated piece of some of the highli...
More info...
FDR Inaugural Parade, 1933
Master 1495 - Tape 2 Card with illustration of screaming federal eagle United News Intertitle And there were cheers aplenty for Al Smith the former Democratic standard bearer as he marched...
More info...
( 15 YEARS AGO - 1933 - AND 10 YEARS AGO - 19...
Unissued / unused material. Newsreel item with titles and commentary in French - a retrospective look at the 1930s. Library shots from Berlin, Germany, 1933. Various shots burnt out Reichst...
More info...

Preview Unavailable
THEATER
ROOSEVELT MARCH 4, 1933 INAUGURATION PARADE.
More info...

Preview Unavailable
DN-237 1 inch; NET-553 Beta SP (at 0...
White Is Inaugurated With Simple Rites As He Starts 2nd Term
More info...
FDR INAUGURATION
On the way to his inauguration, FDR's car swings by the White House to pick up Herbert Hoover. In his inaugural address, FDR says, "This nation is asking for action, and action now."
More info...
High School cadets, and Governors Pinchot an...
Views of inaugural parade in Washington DC. Washington High School Cadets in parade. Governor Gifford Pinchot of Pennsylvania in car followed by a band. Governor Albert C. Ritchie of Maryland can b...
More info...
Preview Unavailable
FDR Becomes President
FDR becomes president. Shots from his presidential campaign and inauguration. At inauguration he says, "The only thing we have to fear is fear itself." DOC/WA - 1932-3 - B/W
More info...
FDR INAUGURATION - 1933 (CQ01608)
Herbert Hoover and wife Lou Hoover leave White House, greet FDR and Eleanor Roosevelt in portico; Hoover and Roosevelt in car ride to inauguration together; US Cavalry march down street; huge crow...
More info...
10214 Yesterdays Newsreel Quiet Cal President...
10214 YESTERDAY'S NEWSREEL PRESIDENT CALVIN COOLIDGE DIRIGIBLE USS LOS ANGELES
More info...

B/W 1933 Franklin Roosevelt making speech at ...
More info...
1933
b&w newsreel w/ audio and narration - Washington, D.C. - h/a and w/s U.S. Capitol building - then ground level shot of massive crowd outside - Franklin Delano Roosevelt Inauguration - m/c F.D.R. t...
More info...
---