Your search for "BP commercial" returned 451 results
COMMERCIAL MOTOR SHOW
Item title reads - Commercial Motor Show. Earl's Court, London. High angle shot of the Commercial Motor Show at Earl's Court. M/S new streamlined petrol tanker made by John Thompson for B.P....
More info...
Downtown Bar-Le-Duc shopkeepers launch promot...
Grand Est
More info...
BP-DUDLEY-COMMITTMENT
More info...
us la oyster recovery
Restaurants and seafood industry officials in New Orleans are recycling oyster shells in hopes of revitalizing what dealers say is a depleted Gulf of Mexico harvest since BP oil spill in 2010. (Jun...
More info...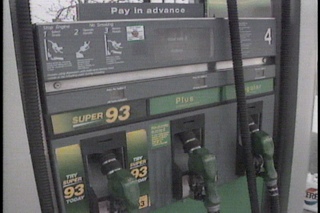 BOMBING SIDE EFFECTS (2/22/1997)
Police closed off traffic to a six-block commercial area after an explosion injured five people at a nightclub in Atlanta. This area was mostly made up of businesses, nightclubs, gas s...
More info...
Preview Unavailable
BRITISH PETROLEUM
LONDON FEED OF NEWS AT TEN CUT STORIES ABOUT THE SALE OF BRITISH PETROLEUM STOCK. 14:33:02:20 Panning shot of the ext of British petroleum (BP) headquarters. Its windows are covered w/ sheets. Ms...
More info...
SCENES FROM BP OIL SPILL - HD
Various scenes covering the BP oil spill the underwater rig leak, oil-covered water and birds, a beach with swimmers, and a commercial fisherman at work. Note Mastered in H.264 HQ 1920x1080 H.26...
More info...
RUSHES: Petrol stations in Eltham general views
Petrol stations in Eltham general views; ENGLAND: London: Eltham: EXT BP / M&S Fuel pricing sign / woman watching petrol price as filling car / woman holding petrol pump in car / man filling up Toy...
More info...
COON/BP EXPLOSION SHOR
More info...
Fuel shortage: consequences for professionals
Nord
More info...
Preview Unavailable
Russia Arrests 2 - WRAP Russia arrests 2 US-R...
NAME: RUS ARRESTS 2 20080320I TAPE: EF08/0304 IN_TIME: 10:51:07:03 DURATION: 00:03:07:11 SOURCES: AP TELEVISION/RTR DATELINE: Moscow, 20 March 2008 RESTRICTIONS: Pt No Access Russia SHOTLIST AP T...
More info...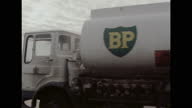 Winter of Discontent - fuel tanker driver str...
Fuel tanker drivers on strike during winter of discontent, Texaco oil tankers parked up, picket line and BP fuel tanker (BBC News 005/79/06EC - 05/01/1979 - AEXZ288W)
More info...
---