Your search for "Canada in Afghan" returned 689 results

Preview Unavailable
CONTEMPORARY STOCK FOOTAGE
NEWSFEED, MARCH 30, 2002, DEATH OF QUEEN MUM (BRITAIN) AND REACTIONS. ISRAEL STRIP-MALL BOMBING. SADDAM HUSSEIN. SPAIN TRAIN WRECK; DX 'State of Kuwait' plane taxis on runway. Various dignitarie...
More info...
NEWS COVERAGE ON AFGHAN & CANADA LEADERS - 2006
Static MS of news reporters and cameras gathered at a press conference between Afghan President Hamid Karzal and Canada's Prime Minister Stephen Harper. The two leaders met while PM Harper was visi...
More info...
ARTILLERY THROUGH THE AGES
Item title reads - Ubique! "Artillery through the ages" - striking pageant for the Royal Tournament. Woolwich, Kent. L/S as mounted guards walk in procession past a big building. Other soldier...
More info...

Preview Unavailable
HD-43 Beta SP
1951 UNIVERSAL NEWS 4
More info...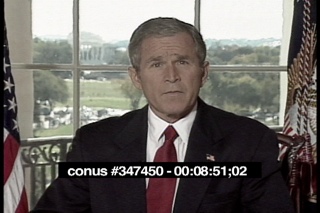 PRESIDENT GEORGE W. BUSH ADDRESSES THE NATION...
Transcript:Good afternoon. On my orders, the United States military has begun strikes against Al Qaida terrorist training camps and military installations of the Taliban regime in Afghanistan....
More info...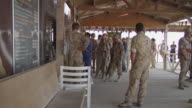 WS Group of soldiers waiting for refreshment ...
More info...
HARPER: PEACE IN AFGHAN
More info...
UNE HEURE SUR TERRE
Unloading of refueling equipment at the PSS3 observation post located three miles from Sperwan Ghar in the Kandahar region of Afghanistan. Canadian soldiers standing guard in the observation tower....
More info...
Preview Unavailable
Afghanistan Canada - Canadian Foreign Ministe...
NAME: AFG CANADA 20060510I TAPE: EF06/0403 IN_TIME: 10:59:44:03 DURATION: 00:00:32:07 SOURCES: AP TELEVISION DATELINE: Kabul, 10 May 2006; file RESTRICTIONS: SHOTLIST: 10 may 2006 1. Afghan pres...
More info...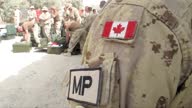 CLEAN: As Canadians leave, questions remain ...
Canada's top general in Afghanistan held his head high as his combat troops flew out of the country on Monday, even if the long war against the Taliban shows little sign of ending. Kandahar, Afgh...
More info...
AFGHAN PRESIDENT & CANADIAN PRIME MINISTER - ...
Canadian Prime Minister Stephen Harper shakes hands with Afghan President Hamid Karzai at the Presidential Palace in Kabul during his visit to the country.
More info...

Preview Unavailable
DN-LB-525 Beta SP
Universal Newsreel
More info...
---