Your search for "Ferdinand tank German" returned 29 results
WWI
b&w - WWI newsreel - propaganda film - Emperor Franz Joseph / Franz Josef of Austria - Archduke Ferdinand and his wife Elizabeth - assassination of archduke Franz Ferdinand and his wife in Saraje...
More info...
German forces, attempting to hold the line, ...
Action on the Russian Front by German soldiers in Russia during World War II. German Sdkfz.250 halftrack passes through mud and infantry marches. Sdkfz.4 halftrack prepares for action. Germans in z...
More info...
Preview Unavailable
World War I Begins
Excellent footage from WW I. Starts with jacket of assassinated Archduke Ferdinand, followed by soldiers mobilizing for warfare, war scenes of soldiers, cavalry, artillery. The invasion of Be...
More info...
RUHR VALLEY OCCUPIED
Item title reads - Ruhr valley occupied by 40, 000 French troops including armoured cars, cavalry batteries of artillery and tanks. Germany. Intertitle - 'In Essen - home of Krupp's famous Wor...
More info...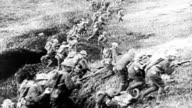 MONTAGE of World War I events
Newspaper headline of Archduke Franz Ferdinand assassination / WWI howitzer guns firing / newspaper headline of the sinking of the Lusitania ship / Woodrow Wilson at desk superimposed with headline...
More info...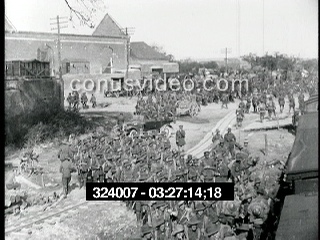 WORLD WAR I: CAPTURED GERMAN EQUIPMENT (1918)...
B&W FILM, 1918, US officers inspect captured German tanks, artillery pieces, and gun carriages in Paris and elsewhere in Europe. Captured Germans labor on the docks of a French port.
More info...
Preview Unavailable
ITN SATELLITEFEED
CR:56 VS OF AN ANTIQUE CAR SHOW IN PARIS, FRANCE. VS OF THE CARS ON DISPLAY. CR:92 VS GYMNASTS COMPETE IN TOKYO, JAPAN. CR:133 TENNIS STAR JOHN MCENROE PLAYS TENNIS IN DUSSELDORF, GERMANY. CR:1...
More info...
49034 WWI The War Years
49034 WORLD WAR I "THE WAR YEARS" DOCUMENTARY THE GREAT WAR WWI
More info...

Preview Unavailable
DN-LB-279 Beta SP
[WWI - Personalities & Troops leaving by train]
More info...
Scenes from German occupied Paris France; Fre...
Scenes shot in 1942 and 1943 from inside German occupied Paris France. German officers and civilians at the Longchamps racetrack in Paris, France. Horses run on a dirt track. German troops at the...
More info...
Preview Unavailable
MOVIETONE'S WAR TIME NEWS - REPORTED BY LESLI...
ISSUE_NO = 767A NO_OF_ITEMS = 3 ITEM_NO = 3 DESCRIPTION : DNIEPER ONSLAUGHT - The latest film from the Eastern Front shows the capture of Zaporozhe, which was a strong centre o...
More info...
29550 HD The Great War
29554 " THE GREAT WAR " 1956 WORLD WAR 1 DOCUMENTARY FILM WWI 1914-1918
More info...
---