Your search for "historical surfing footage" returned 1032 results

Preview Unavailable
GL-112 16mm
AMATEUR CINEMA LEAGUE SHORTS
More info...
Invading Iwo Jima
Dramatic footage that shows the invasion of Iwo Jima by Marines includes shots of landing craft in water, Marines running ashore and Marines getting a foothold on a rocky beach. A leatherneck's he...
More info...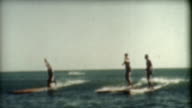 Surfing Tricks 1930's
A group of Polynesian surfers in Hawaii perform tricks on their surf boards.
More info...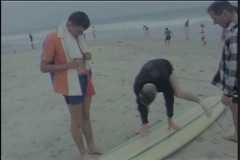 Family Graduation Party (1963)
This is color film taken in 1963 and has been transferred to digital video. This period footage was taken around San Diego, California and chronicles the events surrounding the graduation party h...
More info...
Preview Unavailable
Entertainment Spy Kids 3 Teaser - Family movi...
TAPE: EF03/0521 IN_TIME: 14:14:23 DURATION: 2:46 SOURCES: Miramax RESTRICTIONS: No re-use/re-sale of film clips without clearance DATELINE: Recent SHOTLIST Miramax material 1. Film Trailer - 'Spy...
More info...
49574 Big Surf Arizona_mos
49574 LONDON BRIDGE LAKE HAVASU 1969 BIG SURF WATER PARK TEMPE ARIZONA FIRST BIG WAVE WATER PARK
More info...
Surfer running on beach towards sea, California
Surfer running along the beach and into the sea. Filmed in southern California, USA.
More info...
Preview Unavailable
Crisis In The Congo
The former Belgian Congo in crisis after independence in 1960. Dramatic footage of soldiers using rifle butts to assault a civilian. In one shot a soldier flings his rifle like a spear at a runnin...
More info...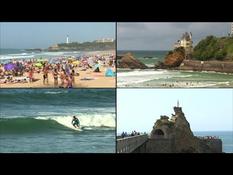 STOCKSHOTS Biarritz prepares to host G7 (2/2)
AFP video
More info...
44874 Riding The Crest
44874 1930s VINTAGE HAWAII & SURFING MOVIE WAIKIKI BEACH HONOLULU RIDING THE CREST
More info...

Preview Unavailable
AD-20 1 inch; 35mm Nitrate
HISTORIC SITES AND RESORTS ALONG THE NORMANDY COAST
More info...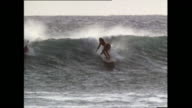 Surfers ride the waves at Waikiki Beach in 1983
Sequence of wide shots showing various surfers riding large waves rolling into Waikiki Beach in Hawaii; 1983. (LDFB635S - AEFR017F)
More info...
---