Your search for "jerusalem 1967" returned 1155 results
Preview Unavailable
Jerusalem After Six Day War
At the end of the Six Days War, Israelis line the streets of Jerusalem. Onlookers applaud a tank's arrival. Two women embrace. Moshe Dayan visits the Western Wall. Also, soldiers pass close to ca...
More info...
1967 Israel Six Day War
b&w documentary - Six Day War - 1967 Arab / Israeli War - Israel - Syrian soldiers in tanks - wreckage of civilian village - Israeli troops shell Syrian Heights - tank by - Israeli troops in Quneit...
More info...

Preview Unavailable
DN-LB-585 Beta SP
Jerusalem [Jewish pilgrims at Wailing Wall observe Tish Bav]
More info...
JERUSALEM
This item was made as Pathe Colour Pictorial CP 651 but was replaced by another travelogue 'Istanbul'. The item was filmed in May 1967 (old paperwork states that it was completed on 30th of May 196...
More info...
JEWISH NEW YEAR
All of Israel ushers in the Jewish New Year with ceremonies by the faithful at the ancient Wailing Wall in the Holy City of Jerusalem. Prayers of joy and thanks are offered.
More info...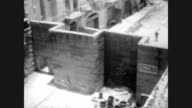 Partition wall in Old Jerusalem comes down
Intimidating brick wall dividing Jerusalem / bombed out buildings visible in the distance / the wall begins to crumble and fall / bulldozer clearing large section of wall.
More info...
BLITZER-BLAIR-1967 STMN
More info...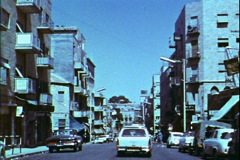 PT. 2 - ISRAEL: ADVENTURE THROUGH TIME (1964)
THIS IS A TRAVELOGUE OF VARIOUS HISTORIC, RELIGIOUS AND MODERN SITES THROUGHOUT ISRAEL.
More info...
Religious pilgrims walk on the streets and vi...
Tourist crowd the holy city of Jerusalem, Israel, after it is opened to visitors following the Six Day War of June 1967. Religious pilgrims walk on streets of the city. Thanksgiving ceremony held...
More info...
Preview Unavailable
BEGIN ( ADVANCER ) GMA / JERUSALEM STREET SCENES
ORIG COLOR & B&W 160 SOF / MAG / SIL. C.S. VO SEAMANS. HA'S JERUSALEM. V.S. JERUSALEM STREET SCENES, V.S. (B&W PRINT) ISRAELI SOLDIERS CAPTURING EAST JERUSALEM IN 1967. V.S. EXTS ARAB MOSQUE OF OM...
More info...
31810 HD Six Days in June_mos
31810 HD "SIX DAYS IN JUNE" 1967 ISRAELI DEFENSE FORCES SIX DAY WAR
More info...
Preview Unavailable
Interview with Halevi & B-Roll pt 2
Interview with Yossi Halevi as he drives his car and discusses his new book about a paratrooper in the Israeli army., 3:47:24 to 3:58:08>>>Halevi by his desk in-front of his computer, at times tal...
More info...
---