Your search for "hospital cleaning" returned 7743 results
Volunteer workers clean and dry medical recor...
Sign reads 'Hospital Emergency Entrance' in Rapid City, South Dakota. Volunteer workers clean and dry medical records. Debris along roadside. Location: Rapid City South Dakota USA. Date: June 16, ...
More info...
Pathe
Hospitalized US Army mail plane pilots describe experience of crashing at sea and being rescued by US Navy ship
More info...
1967
Phouc Vinh, Vietnam - some overexposed - hospital operating room - anesthesiologist holds mask on African American patient - doctors clean out and tend to really nasty wounds - Vietnam War
More info...
TAKE CARE OF BRUSHES & BRISTLES
Title reads: "Take Care of Brushes & Bristles". Ministry of Information Government official. Cartoon. Voice over explains how properly to clean brushes to ensure their longlife. Distemper...
More info...
Preview Unavailable
Scenes In A Military Hospital
A soldier enters a mobile military hospital filled with military doctors and patients. Inside, a doctor examines a soldier's leg, dental X-rays on a lightbox are marked, a soldier's eyes are ex...
More info...
MILITARY HOSPITAL -1
A nurse swabs a womans arm in a ward in a military hospital.
More info...
Paramedic helping patient in ambulance
Paramedic providing medical help to patient in ambulance
More info...
The 90's: Getting Older
00:11:01 - 00:13:53 Hannah and Rachel by Jeff Spitz. Hannah Joravsky, a 3-year-old, is on her way to the hospital to meet her new sister, Rachel. At the hospital, she demonstrates how big her m...
More info...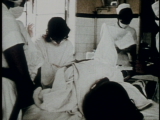 SOCIAL ISSUES
INDIAN HOSPITAL, DOCTORS & NURSES DELIVERING A BABY. MATERNITY WARD. CU NEWBORN BABY BEFORE CLEAN UP. HOSPITAL DELIVERY ROOM
More info...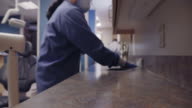 A Latina Dental Hygienist in Her Fifties Wear...
A Latina Dental Hygienist in Her Fifties Wearing a Face Mask Wipes off a Counter and Various Surfaces around an Examination Room at a Dental Office in Preparation for the Next Patient
More info...
War Hospital
Daily activities at Red Cross Lopiding Surgical Hospital: various shots of workers setting up steel beds in large tent ward, shots of them cleaning (4:47).
More info...
TSUNAMI/ACEH HOSPITAL
More info...
---