Your search for "albert of monaco" returned 561 results
THE RAINIERS ARRIVE IN AMERICA
New York, United States of America (USA). Title reads 'Royal Visitors from Monaco'. Various shots of Prince Rainier of Monaco arriving at New York international airport with his daughter Pr...
More info...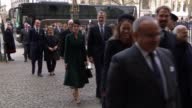 RUSHES: Duke of Edinburgh thanksgiving servic...
Duke of Edinburgh thanksgiving service: Arrivals; ENGLAND: London: Westminster Abbey: EXT Group arriving from coach / more guests arriving in buses including Margareta Custodian of the Crown (Marga...
More info...
Prince Rainier III announces the birth of pri...
Monaco acclaims the birth of a new born crown prince. A coast line of the city. Guards stand with royal signs. Royal guards places notices on a wall. They fire guns from a fort near the coast. Prin...
More info...
PRINCE ALBERT & PRINCESS CAROLINE OF MONACO
Prince Albert & Princess Caroline of Monaco's royal Grimaldi family at black-tie event.
More info...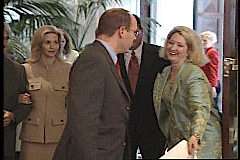 Prince - Visits - Texas
MONACO'S CROWN PRINCE ALBERT VISITS NORTH TEXAS.
More info...
Along the French Riviera
1937 -B/W Sync Along The French Rivera* TFA-1A 35mm 01:01:46 - 01:08:03, French Riviera. PAN shore at Cannes, yacht enters harbour, PAN beach. Various, Isle of St. Marguerite, LS over water ...
More info...
53464 Yesterdays Newsreel Forbidden City Of T...
53464 YESTERDAY'S NEWSREEL TIBET & DALAI LAMA IN 1923 NEVADA GOLD RUSH
More info...
1966
The Making of Grand Prix the movie - Featurette - 1966 - Drama - Sport - James Garner, Eva Marie Saint, Yves Montand, Brian Bedford, Jessica Walter and Antonio Sabàto - Toshiro Mifune - directe...
More info...
PRINCE ALBERT OF MONACO AT NPC
12:26:34:29 Available in HD. HD FOOTAGE // FIELD DISK // Prince Albert II of Monaco speaks at a National Press Club luncheon on the enviornment and climate change. // 12:33:29 ZI Prince Albert at p...
More info...

Preview Unavailable
DN-B-306 Beta SP
News In Brief - New York (Grace Kelly Arrives Home)
More info...
Robbie Williams Concert for the ten year reig...
ART, CONCERT, EMOTION, FACADE, GREET, GRIMALDI FAMILY OF MONACO, Albert II, Prince of Monaco, HISTORICAL MONUMENT, ILLUSTRATION, image descriptors, JOY, MONUMENT, MUSIC, music ranking, ...
More info...

Preview Unavailable
CONTEMPORARY STOCK FOOTAGE
monte carlo, Monaco: Prince Albert, 'talking head' interview on balcony; m/s Prince Albert & interviewer sit at table, white room, modern art on walls; f/s Prince Albert stroll out on patio, w...
More info...
---