Your search for "batman" returned 9691 results
ITW (junket) Tim Burton for "Batman" ( "Batma...
ITW GP Tim Burton, director "Batman Returns" sitting in chair in English:    TC 01: 00: 40: 14 of the fact of not having the film "Batman 2", on the fact that for him 2 has a negative aspect TC 0...
More info...
Beta SP: Archival color people marching throu...
Archival color people marching through street protest carry banner that says Krenzman (looks like Batman logo), John F Kennedy speech - 'People have the right to be free, and be united with famil...
More info...
TV News
PREMIUM RATE FOOTAGE - Michael Keaton hands in cement ceremony at Grauman's Chinese Theater - close up of banner on corner tower of theater for movie Batman Returns featuring characters Batman - ...
More info...
MELBOURNE LOOKS BACK
Melbourne looks back. Australia. L/S of skyline of Melbourne. L/S of city showing skyscrapers in foreground and traffic moving along busy streets. M/S of man dressed as John Batman with follower...
More info...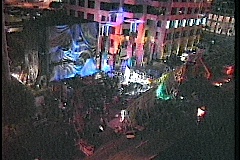 BATMAN STATUE LAWSUIT (06/21/1995)
MINNEAPOLIS ARTIST ANDREW LEICESTER HAS FILED A MULTI-MILLION DOLLAR LAWSUIT AGAINST WARNER-BROS FOR MAKING HIS TOWERING SCULPTURE "ZANJA MADRE" A CENTERPIECE IN THE BLOCKBUSTER FILM "BATMAN FOREVE...
More info...
Time-Lapse Of Bats In A Tree On Tioman Island...
rest, Asymmetrical, Black, Blue, Camouflage, Silhouette, Land, Malaysia, rural, Topside, Asia, Angle, animal, Asia, Asian, Asleep, Bat, Batman, Branch, branches, Camera, Chirop...
More info...
FILE Reeves Batman
Matt Reeves steps in to direct 'The Batman'
More info...

Preview Unavailable
BATMAN MOVIE SPARKS MERCHANDISING CRAZE
The release of Tim Burton's "Batman" movie sparks a renewal in Batman merchandising that includes everything from clothing, costumes, belt buckles and toys of the Dark Knight.
More info...
Jokulsarlon ice lagoon
Jokulsarlon ice lagoon is one of the most visited places in Iceland. It has been created by the rapid retreat of the Breidamerkurjokull glacier which sweeps down off the Vatnajokull ice cap. Ice be...
More info...
Civilians and Servicemen watch the air show b...
Civilians and Servicemen watch the flying maneuvers of airplanes in the 11th All-America Air Maneuvers show. Early flight stunt Birdman Clem Sohn stages breathtaking exhibition wearing his 'Bat man...
More info...
Actor Michael Keaton discusses his role as Ba...
More info...
---