Your search for "Iowa Hog Farm" returned 151 results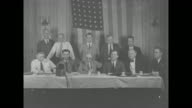 Iowa farmers call for a debt holiday
Title card: "Ten states study farm price war - Governors meet in Sioux City, Ia., as strikers demand debt holiday" / VS trucks and horse-drawn wagons roll down a congested street / Two rows of go...
More info...
76294 Cattle And The Cornbelt
76294 1950s MIDWEST UNITED STATES CATTLE INDUSTRY & FARMING CORN
More info...
Preview Unavailable
IOWA DROUGHT
OC 800 SOF MAG ROLL A FTG OF IOWA DROUGHT. TRACKING SHOTS PAST IOWA CORNFIELDS. INTV W/ CORN GROWERS ON EFFECTS OF RECENT DROUGHT. VS AERIALS OF IOWA CORN FIELDS, FARMS, VS HOGS FEEDING. INTV ...
More info...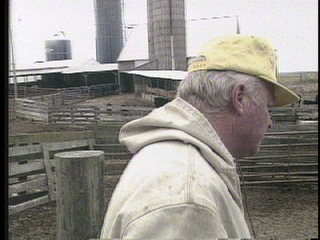 HOG GIVEAWAY AS PRICE PROTEST (11/25/1998)
Farmer in Baldwin, IA. is giving away his hogs because the market prices are at historic lows.
More info...
Routine activities of a family on their farm ...
A farm in Iowa, United States. A portrait. Signs read 'Dallas Center' and 'Oskaloosa'. Several men walk and talk on a road early in the morning. Newspaper and milk bottles delivered outside a hous...
More info...
DES MOINES/ ADAY #2
00:00:00:00 MS hogs on farm, walk around pen 2:14/ WS farm, incl wire & wooden fence along property 2:08. (0:00)/
More info...
Pathe
Iowa farmers call for a debt holiday
More info...

Preview Unavailable
PA-1697 Beta SP; PA-0088 Beta SP
Modern Trends in Swine Production
More info...
RUSSIANS ON FARMING TOUR OF U.S. - 1955
In Iowa, Russian agricultural experts study corn and hog farming on a typical American farm for possible use back home. Then they are introduced to something that doesn't grow on the farm - ice cr...
More info...
68694 Army Navy Screen Magazine 36 On Our Way
68694 1944 ARMY NAVY SCREEN MAGAZINE #36 GEN. LESLEY MCNAIR WWII REPORT FROM IOWA PRIVATE SNAFU
More info...
Pork, beef, and sugar crops processed at fa...
Agricultural progress in the America during World War II, with increased production to meet wartime needs. Pigs, hogs, and piglets on a farm. Trees in the background. Vehicles pass in front of a...
More info...
PIG BREEDING FARM B-
00:00:00:00 [B-roll hog farm. Incl some cute shots of piglets but also some graphic nat of frightened piglets squealing]-- news media person puts plastic bag over shoes/ VS piglets suckle at t...
More info...
---