Your search for "1997 north hollywood bank robbery" returned 14 results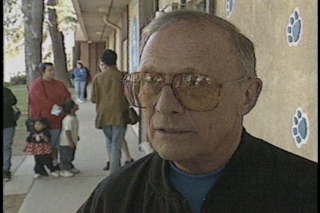 SHOOTOUT SHAKES UP AREA SCHOOLS (03/01/1997)
The wild shootout at the North Hollywood bank shook up area schools.
More info...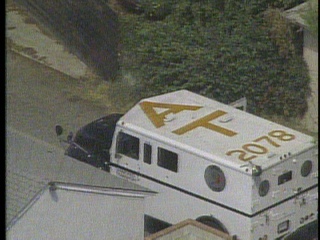 HERO NOW IMPLICATED IN CRIME (9/12/1999)
AN ARMORED CAR DRIVER HONORED FOR HELPING CIVILIANS DURING A ROBBERY A FEW YEARS BACK IS UNDER ARREST FOR PLOTTING TO ROB HIS ARMORED CAR NOW.
More info...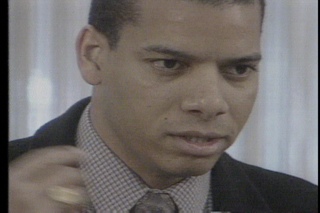 POLICE OFFICERS TALK ABOUT SHOOTOUT (03/05/1997)
Officers involved in the North Hollywood shootout speak out for the first time.
More info...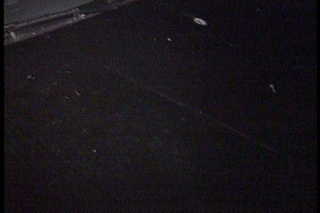 NORTH HOLLYWOOD SHOOTOUT (03/01/1997)
More info...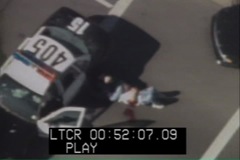 NORTH HOLLYWOOD Bank Shootout (2/28/1997)
A group of robbers dressed in dark clothes and wearing ski masks tried to rob a bank today and came out firing, unleashing their bullets on police, bystanders, cars and even the television helic...
More info...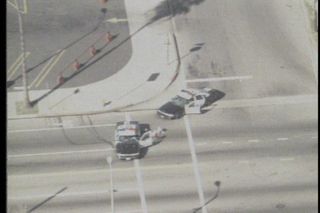 PROTEST OVER LAWSUIT AGAINST POLICE (04/27/1997)
Some people were out protesting a lawsuit filed by the mother of one of the men who died in the North Hollywood shootout. The lawsuit claims medical negligence on behalf of the police.
More info...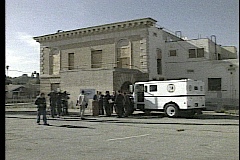 HISTORIC ARMORED CAR DONATED (12/14/1999)
THE ARMORED CAR USED BY POLICE IN THE 1997 NORTH HOLLYWOOD SHOOTOUT IS BEING DONATED TO THE LAPD HISTORICAL SOCIETY TODAY (TUESDAY).
More info...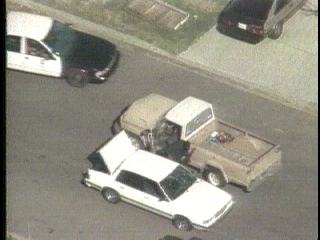 SUIT BY NORTH HOLLYWOOD GUNMAN FAMILY BEGINS ...
LAWSUIT BY FAMILY OF ONE OF THE NORTH HOLLYWOOD GUNMEN AGAINST POLICE BEGINS. SUIT CLAIMS MEDICS LET SHOOTER DIE.
More info...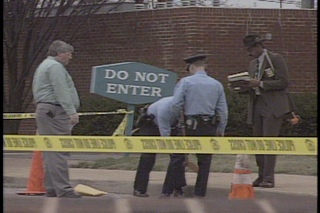 POSSIBLE COPYCAT ROBBERY (03/18/1997)
POLICE SUSPECT THAT THE PEOPLE WHO ATTEMPTED TO ROB A ST. LOUIS BANK MAY HAVE BEEN TRYING TO IMITATE THE ROBBERY THAT OCCURRED IN NORTH HOLLYWOOD.
More info...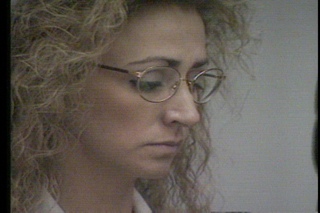 FREDERICO IN COURT (1997)
THE WIDOW ON ONE OF THE MEN WHO DIED IN A SHOOTOUT WITH POLICE WHILE TRYING TO ROB A BANK IN NORTH HOLLYWOOD CALIFORNIA IN FEBRUARY WAS IN A SANTA FE, NEW MEXICO COURT TODAY. JEANETTE FREDERICO W...
More info...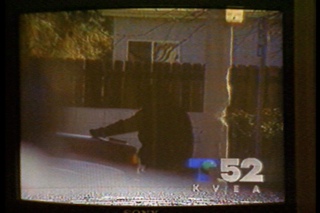 LOS ANGELES COPS SHOOTOUT VIDEO (1997)
Members of the Los Angeles Police Department narrate a video of the well-publicized bank robbery that took place a few months ago.
More info...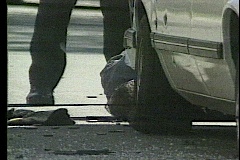 NORTH HOLLYWOOD SHOOTOUT SUIT / OPENING (2/17...
SUIT ALLEGES THAT AUTHORITIES LET A BANK ROBBERY SUSPECT BLEED TO DEATH OUTSIDE THE BANK DURING THE NORTH HOLLYWOOD SHOOTOUT IN 1997.
More info...
---