Your search for "aj foyt" returned 137 results

Preview Unavailable
DN-LB-581 Beta SP
Phoenix [150-mile pre-Indianapolis race]
More info...
33874 Indys Longest 500
33874 1967 INDIANAPOLIS 500 AUTO RACE MICKEY THOMPSON AJ FOYT
More info...
PIERRE CANGIONI WITH JP. JARIER PRESENTS INDI...
RTF / ORTF
More info...

Indy Turbochargers
Driver LARRY DICKSON driving Indy car 64 into pits / JOE LEONARD driving Lotus Indy car 60 / BOBBY UNSER driving EagleOffy Indy car 3 / driver GRAHAM HILL driving Lotus Indy race car 70 / Bobby Uns...
More info...
AJ Foyt Wind Indy 500
AJ Foyt wins his first Indy 500. Glimpses of the race, fans in the stands, pit crews, and winner's greeting after the race. Foyt triumphantly kisses his wife.
More info...
PILE UP IN CAR CLASSIC
Pile up in car classic. Indianapolis 500 in the United States of America. L/Ss of large crowds lining the track. L/S of thousand of balloons being released before start of race. L/S of the cars ...
More info...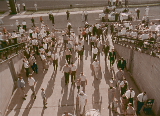 RACING
AJ FOYT PULLS UP
More info...
Preview Unavailable
SPORTS: AJ FOYT WINS INDIANAPOLIS 500 / INDY 500
POSITIVE PRINT 42 FT. SIL MS CAR RACING ON TRACK. MS SEVERAL CARS. MS CROWDS. LS SINGLE CAR. CU CROWDS IN STANDS. LS REFEREE WAVES FLAG AT FINISH LINE. CU RACE CAR DRIVER A.J. FOYT GETS ON HOOD OF...
More info...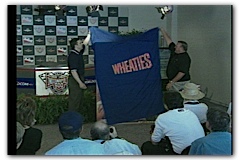 Foyt Wheaties VNR
RACE CHAMPION A.J. FOYT GRACES THE COVER OF WHEATIES BOXES.
More info...

National 500 Stock Car Race
1971 Chevrolet Monte Carlo stock car #27 (driven by AJ Foyt) stopping for pit stop, pit crew hustling to work at Charlotte Motor Speedway / 1971 Plymouth Road Runner stock car #43 (Richard Petty) ...
More info...

Preview Unavailable
HD-209 Beta SP
1965 UNIVERSAL NEWSREEL 5
More info...
57834 In The Face Of Challenge
57834 RAYBESTOS 1975 AUTO RACING TRIPLE CROWN INDIANAPOLIS 500 SHAFFER 500 ONTARIO 500
More info...
---