Your search for "California Dog Note" returned 524 results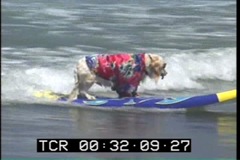 DOG SURFING CONTEST
Around 60 dogs took part in the annual Loews surf dog competition on Imperial beach, California in July. With three categories of competition available (small surf dogs, large surf dogs and tande...
More info...
Pathe
Dog sled race in Sierra Nevada mountains, 1929
More info...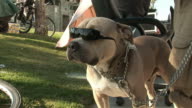 MS, Pitbull dog wearing sunglasses standing ...
More info...

Preview Unavailable
CONTEMPORARY STOCK FOOTAGE
NEWSFEED 8/29/05 HURRICANE KATRINA, LOTS OF FLOODING, RAIN, DAMAGE, DOWNTOWN NEW ORLEANS, GW BUSH, PROTESTS, DOGS;DX EXT var shots of Hurricane Katrina doing damage in rural areas, traffic ...
More info...
Dogs shipped from Iraq to California
Various puppies are released from quarantine in Los Angeles after being shipped from Iraq. PLEASE NOTE VIDEO AND AUDIO OF NEWS ANCHORS AND REPORTERS IS NOT AVAILABLE FOR LICENSING.
More info...
1938 Hollywood Oddities
b&w newsreel - Hollywood & Los Angeles signs - Clement Detective Agency - Murphy Studio - Colonic Therapy - Reducing a Specialty - Electro-therapy Colonic Irrigation - music store in shape of ...
More info...
BOLSHOI/DISNEYLAND
00:00:00:00 [Members of the famed Bolshoi Ballet visit Disneyland during US tour]/ WS of members posing for photo w/Disney characters like Mickey, Pluto, Goofy etc 1:23/ [NOTE: NO COURTESY RE...
More info...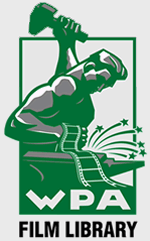 Preview Unavailable
Soul! Ep 45 (403)
Soul Episode # 45 403 Guests Georgia Jackson LaBelle Patti LaBelle Sarah Dash Nona Hendryx Mandrill Claude Coffee Cave Omar Mesa Charles Padro Fudgie Solomon Carlos Wilson Lou Wilso...
More info...

Preview Unavailable
PA-1045B Beta SP
Chevrolet Leader News (Vol. 3, No. 4)
More info...
Participants taking off in hot air balloon ra...
Five Hot air balloons preparing for a race from Catalina Island, to the mainland, California. Views of gas tanks and flames that create the hot air for the balloons. Participant, Barbara R. Keit...
More info...
HOLLYWOOD - sound version
Hollywood, California, United States of America (USA). Interior of an aircraft. Stewardess chats to passengers. Nice shots of passengers. Pan American aircraft lands at Los Angeles airport....
More info...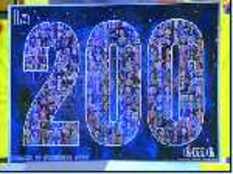 The 200th
Thierry Ardisson
More info...
---