Your search for "ebtekar" returned 11 results
Preview Unavailable
IRAN: 24TH ANNIVERSARY OF TAKEOVER OF US EMBASSY
TAPE_NUMBER: EF00/1233 IN_TIME: 16:10:50 - 19:22:09 // 19:38:48 LENGTH: 01:34 SOURCES: APTN/IRIB RESTRICTIONS: FEED: VARIOUS (THE ABOVE TIME-CODE IS TIME-OF-DAY) SCRIPT: Natural Sound XFA Ira...
More info...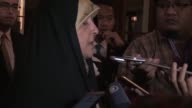 Joko Widodo meets Masoumeh Ebtekar in Bogor
BOGOR, INDONESIA - MAY 01: Indonesian President Joko Widodo meets with Vice President of Iran for Women and Family Affairs Masoumeh Ebtekar at Bogor Presidential Palace in Bogor, Indonesia on May...
More info...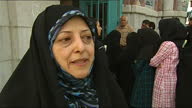 National elections; National elections
EXT Masoumeh Ebtekar (Former Iranian Vice-President) interview SOT Ebrahim Yazdi (Reformist politician) interview SOT
More info...
CNN: SPECIAL INVESTIGATIONS UNIT
More info...
Iran Oscars
AP-APTN-0930: Iran Oscars Monday, 25 February 2013 STORY:Iran Oscars- Reaction to Argo winning best picture at the Oscars LENGTH: 01:39 FIRST RUN: 0830 RESTRICTIONS: NO IRAN/NO BBC PERSIAN/NO V...
More info...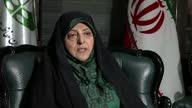 Syria Conflict: Iran agrees to take part in p...
Syria Conflict: Iran agrees to take part in peace talks; INT Masoumeh Ebtekar (Iranian Vice President) greeted by reporter as into room/ Masoumeh Ebtekar interview SOT - leverage Iran has amongst ...
More info...
EBTERKAR/APPROACH
00:00:00:15 There should be a very delicate approach to international relations with the world. The, of course, the rights of the Iranian nation, the dignity of the country.. These are things, ...
More info...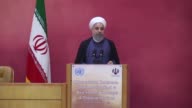 International Conference on Combating Sand an...
TEHRAN, IRAN - JULY 03: Iranian President Hassan Rouhani delivers a speech during the International Conference on Combating Sand and Dust Storm in Tehran, Iran on July 3, 2017. Iranian Vice-Pres...
More info...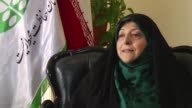 CLEAN : Sanctions threaten Iran climate effor...
Irans vice president and environment chief Massoumeh Ebtekar has told AFP that the West's failure to fully implement the nuclear deal and lift sanctions are endangering her countrys efforts to meet...
More info...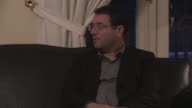 Iranian trade minister tests positive for cor...
IRAN, TEHRAN - (ARCHIVE): This archive footage taken on October 29, 2018 shows Iran's Industry, Mining and Trade Minister Reza Rahmani in Tehran, Iran. Rahmani has tested positive for the coron...
More info...
---