Your search for "family beach" returned 20150 results
BANK HOLIDAY ON KILLINEY BEACH
Full title reads: "KILLINEY BEACH". Killiney Beach, Republic of Ireland (Southern Ireland, Eire). Crowded Killiney Beach in Ireland. Children bathing, swimming and playing at he beach. Fam...
More info...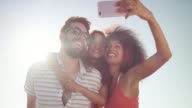 What special memories these will be
4k video footage of a happy family taking selfies at the beach
More info...
Illustrations Doha Qatar
Illustrations Doha - Beach - Qatar flag - buildings - traffic - street scenes - sea boats
More info...
HZ Cambodia Beaches
Cambodia's sleepy beaches start to lure more travellers
More info...