Your search for "capitol building threat" returned 1788 results
1968
television - campaign commercials of President Richard Nixon - all still photos - eerie whirring sound in background - ad outlines military threats against United States - b&w photos of Capitol Bui...
More info...
CAPITOL POLICE PRES
00:00:00:00 [US Capitol police presser. Lt Dan Nichols discusses the latest in the environmental sweep of the Capitol bldg as investigators try to determine if any more anthrax spores are arou...
More info...
60984 Washington Close Up
60984 1951 PUBLIC AFFAIRS TV SHOW "WASHINGTON CLOSE-UP" UNITED NATIONS WORLD GOVERNMENT
More info...
++US Evacuations 2
Capitol building evacuated amid bomb threat
More info...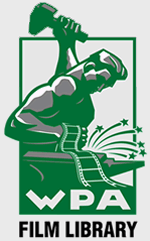 Preview Unavailable
Senate Select Committee on Presidential Campa...
Senate Select Committee on Presidential Campaign Activities May 24 1973DO NOT USE - NPACT logo on black screenDO NOT USE VOICEOVER Image of paper copy of Senate Resolution 60-- voiceover of Rober...
More info...
U.S. Air Force film about the threat of commu...
After showing several Russian signal intelligence sites, a map, centered on the North Pole, depicts numerous forms of communications facilities and antennas. An animated map depicts what it call...
More info...
Preview Unavailable
Dore Gold Interview
00:00:57:00>>>INTERVIEWER: Tell us your name, and spell it please? , 00:01:05:00>>>DORE GOLD: Ambassador Dore Gold. That's D-o-r-e, G-o-l-d. , 00:01:15:00>>>INTERVIEWER: Where were you from? ...
More info...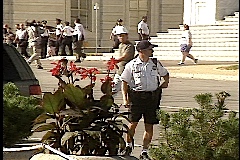 CAPITOL HILL EVACUATION B-ROLL (2001)
This item contains additional b-roll of the evacuation of the Capitol grounds.
More info...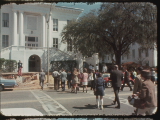 NEWSREELS
CAPITOL EVACUATION. BOMB THREAT. LS WHITE BUILDING WITH PILLARS, PEOPLE STANDING ACROSS STREET, CARS DRIVE BY
More info...
TRUMAN SPEECH TO CONGRESS
Capitol, Washington D.C., United States of America (USA). Title reads 'Truman Addresses Congress on State of Union'. LS. Britain's Prime Minister Winston Churchill and Conservative MP Anth...
More info...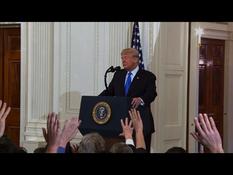 Trump reaches out to the Democrats, but lays...
AFP Video
More info...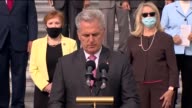 Congressman McCarthy says Republicans would r...
House Republican Leader Kevin McCarthy says at event accompanied by Republicans to introduce their Commitment to America program at base of East Front steps of the US Capitol building that Republic...
More info...
---