Your search for "Lydia Kennard" returned 3 results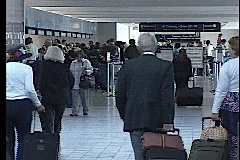 LOS ANGELES SECURITY REVIEW (10/8/2001)
LOS ANGELES MAYOR JIM HAHN TOURS LOS ANGELES INTERNATIONAL AIRPORT AMID HEIGHTENED SECURITY IN THE WAKE OF THE U-S ATTACKS.
More info...
POINT WITH GRETA
/n00:00:00:00 /nTOPICS: Anthrax Investigation; The U.S. Considers a Strike Against Iraq; President Bush Signs New Airline Security Bill; GUEST HOST: Willow Bay; GUESTS: Yossef Bodansky, author...
More info...
Preview Unavailable
US Flights - REPLAY: First flights land at Lo...
TAPE: 000000 IN_TIME: 00:00:00 DURATION: 2:13 SOURCES: ABC RESTRICTIONS: No Access North America/CBC/Internet DATELINE: Los Angeles/Dallas - 13 September 2001 SHOTLIST: Los Angeles 1. Wide shot o...
More info...
---