Your search for "California Standoff Chase" returned 45 results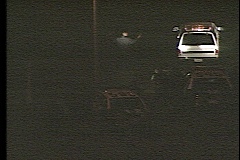 STOLEN VEHICLE STANDOFF (2/11/2000)
A STOLEN CAR LEADS TO A SLOW SPEED CHASE AND A STANDOFF BEFORE ENDING PEACEFULLY.
More info...
1916 B/W MONTAGE MS WS People cheering and le...
More info...
ARLETA CALIFORNIA POLICE CHASE AND STANDOFF /...
EXT BROLL CHOPPER AERIALS OVER POLICE CAR CHASE AND STANDOFF POLICE CHASE ENDS IN ARLETA AREA; SUSPECT DEAD IN TRUCK A police chase out of the Sylmar area has come to an end in Arleta, with the...
More info...

Preview Unavailable
2000s NEWS
NEWSFEED: 7/16/02, GOOD CAR CHASE POLICE PURSUIT-NOT ESPECIALLY WILD BUT GOOD PICTURE AND DRAMATIC FINISH; Wacky beauty pageant: winner of Worst Bridesmaid Dress Contest (sponsored by Pucker schna...
More info...
CA: HIGHWAY SHOOTING
14:03:50:15 aerials/pan over police cars on hwy (0:07) / 14:03:58:15 ms of van (0:02) / 14:05:48:15 ws of police cars (0:08) / 14:05:57:15 ms of officers cars on hwy (0:12) / 14:09:28:15 ms of ...
More info...
Preview Unavailable
US Bus Chase - Dramatic footage of bus chase
TAPE: EF01/0864 IN_TIME: 07:31:47 DURATION: 2:54 SOURCES: ABC RESTRICTIONS: DATELINE: Los Angeles, California, December 14, 2001 SHOTLIST: NOTE: QUALITY AS INCOMING NIGHT SHOTS - AERIALS 1. B...
More info...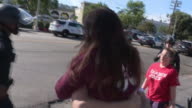 Families Reunite After Deadly Trader Joe's St...
KTLA- In the span of a few hours, Gene Atkins had shot his grandmother, kidnapped his girlfriend and then led police on a wild chase from Hollywood to Silver Lake while shooting at officers from ...
More info...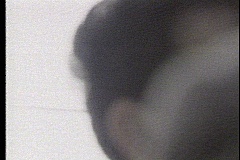 HIGH SPEED CHASE, STANDOFF ENDS PEACEFULLY (...
A man in southern California led police on a high-speed chase after allegedly trying to rob one or more condominiums today. The 47-year-old suspect finally surrendered after barricading himself in...
More info...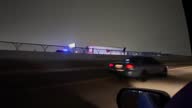 Suspected Truck Thief in Custody After Leadin...
A man who allegedly stole a semi-truck on November 3 and proceeded to lead police on an hours-long chase and standoff in Southern California is now in custody. At about 8:15 pm on Wednesday evening...
More info...
Preview Unavailable
APTN / RS 055 / 1 - 6 AM
010047 kuwait Camp Attack DATELINE: Kuwait - 23 March 2003 ++Please note: change to restrictions++ SKY: No Access UK/Ireland/Euronews/CNNi/Internet/USA (First Run 0330 gmt F-L-A-S-H) 1. Various ...
More info...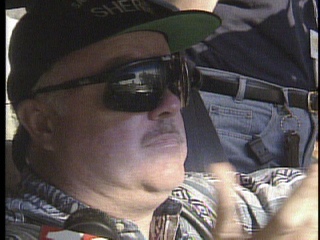 HIGHWAY STAND OFF (7/2/1999)
It started with a traffic dispute and ended with a marathon standoff on a freeway in Southern California. A woman led police on a pursuit through San Diego County after allegedly threatening anoth...
More info...
Aerial View of High-Speed Pursuit in Downey
KTLA- A car theft suspect who led authorities on a dangerous high-speed pursuit through several cities was confirmed dead after the chase ended in standoff inside a crowded Chris & Pitts restaurant...
More info...
---