Your search for "prosthetics" returned 2010 results
Attachment of a Prosthetic Aortic Valve
Aortic prosthesis surgery attachment of artificial prosthetic aortic valve to heart in 3D CG animated human animal model
More info...
Patient has prosthetic limb fitted by worker,...
Gymnasts, patients exercise, and are helped to exercise by therapists and other patients in Detroit, Michigan. Patient has limb prosthesis fitted by worker. Patient tries on prosthetic artificia...
More info...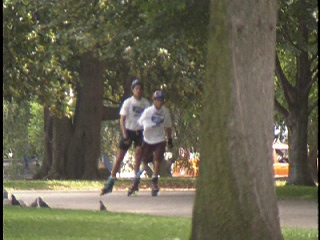 Amputee Roller Blader (1993)
Capitol Hill
More info...
Cow With Prosthetic Leg
A cow's owner tests the cow's new prosthetic leg.
More info...
Making of artificial limbs for amputees and d...
WWI, Russia. 1915. Artificial substitutes workshop. Child working. War victims, disabled soldiers, invalids trying on artificial substitutes, prosthetics, arms and legs (1914-1918). Invalids w...
More info...
Beta SP: mountain climber walking on prosthet...
Mountain climber walking on prosthetic legs Masters Of Stone V stock footage Beta SP
More info...

Preview Unavailable
TAP-7CI Beta SP
SPIES - WALTER REED HOSPITAL
More info...
(HZ) US Albino Children
Children attacked in Tanzania receive prosthetic limbs
More info...
Preview Unavailable
PROSTHETIC HAND
PRESS CONFERENCE AT RUTGERS UNIVERSITY ABOUT A PROSTHETIC HAND THAT WOULD ALLOW AMPUTEES TO MOVE THEIR FINGERS INDEPENDENTLY
More info...
articulated hand on conveyor grabs belt of blue-gowned man - prosthetics
More info...

Preview Unavailable
Various Subjects
SOLDIER WITH PROSTHETIC CHIN
More info...
The 90's, episode 301: MONEY, MONEY, MONEY
9:09 Joel Kovner by Nancy Cain and Judy Procter. At the First Professional Bank in Santa Monica, California, bank president Joel Kovner gives a brief tour of the vault. Before the bank opened we...
More info...
---